Details

Written by

Martin Wickham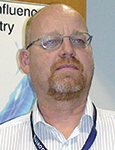 Are the chosen surface finishes optimal for the alloy?

Solder wicking has occurred on the resistor network terminations. The solder, when reflowed, has wetted to the termination, instead of the pads on the NiAu board (FIGURE 1). This is due to contamination on the surface of the gold that the flux could not remove during reflow.

In this case it was due to cleaning the boards after poor printing, basically a paste wash-off in a poorly defined process. It is perfectly possible to wash a board after poor printing and reprint, but some surface coatings may not be compatible, or the process must be evaluated and controlled.
Read more ...