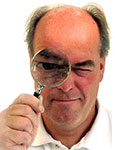 Is the board preheat process optimized?
This month we look at incomplete fill of plated through-holes. During any soldering operation a balance of flux and solder/paste chemistry and soldering temperatures creates good and reliable joints. In FIGURE 1 the solder has not filled the hole completely but still exceeds the requirements of IPC-A-610, class 2 of 50%; measured, it may be 75% filled.
To continue reading, please log in or register using the link in the upper right corner of the page.