Details

Written by

Bob Willis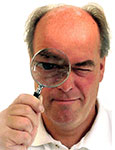 Solvents in holes can heat and "pop."
This month we look at voids or missing conformal coating. Depending on the lack of coating and position, this condition may result in acceptance or rejection. Normally with conformal coatings, small voids not specifically associated with electrical termination or bridging connections are acceptable, depending on the level of inspection criteria.
FIGURE 1 shows voids or bubbles in conformal coating under UV dark light. I would suggest both these cases require rework, as the electrical termination points are exposed, and there is no protection. Most likely, solvent coating has run into the holes. As the coating starts its first transition from a liquid, the voids expand from the holes. Then they pop, leaving the surface or pads with no protection.
It is suggested too much coating was applied on one pass, and initial evaporation could not occur, resulting in a volcano-like reaction from the holes. Each of the holes associated with coating voids had limited solder fill or cavities. In the past, we have seen the same problem with selective coating around press-fit connectors.
Read more ...