Details

Written by

Martin Wickham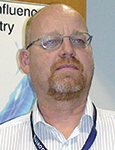 Solve capillary issues by increasing solids content.

It is very important to control conformal coating thickness on a printed board assembly. Problems with coating over different surfaces, particularly sharp corners that can lead to shorts from tin whiskers, have been demonstrated many times.

FIGURES 1 and 2 show capillary action on an SOIC and QFP, respectively, where the thickness of the coating is much higher around the leads and the body of the devices. With very high fluidity and spray coating, liquid capillaries under the package are starving the area of the board close to the edge of the pads.
Read more ...