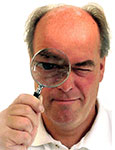 Gold boards are susceptible to the defect.
This month we look at solder spotting, which is often seen after first- or double-sided reflow, most commonly on gold boards. The two examples below illustrate what happens. FIGURE 1a shows two spots on a nickel/gold pad, and FIGURE 1b shows one spot on a copper OSP pad finish.
To continue reading, please log in or register using the link in the upper right corner of the page.