Details

Written by

Bob Willis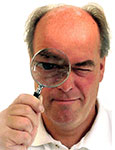 Try this test to determine paste problems.
This month we look at solder paste slump during preheating. It is important to know how much, if any, of the paste slumps like butter on a hot day during reflow. If solder paste does slump, it can lead to shorts, solder balls or solder beads, or cause variations in solder joint volume on selected joints.
Variation in joint volume occurs when one joint acquires more solder from an adjacent joint during reflow due to the paste being linked. Testing of solder paste is well covered in IPC specifications, and equipment is available to test paste and record the results.
Alternatively, if you think you have an issue, a simple shop floor test is to use the existing profile but change the temperatures of the final reflow zones. Setting the final zones to final preheat temperatures will slow the degree of slump. Normally the maximum slump is seen earlier during reflow. Typically, as solder paste is changed or the metal particle size is reduced, slumping can be seen more often.
Read more ...