Details

Written by

Juan Jose Morales Ibarra and Filemon Sagrero Quirino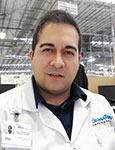 Simple fixes are often the best solution for small variances.

In a perfect world, manufacturing process setup should eliminate the potential for mistakes. In practice, however, process complexity and the impact of system variation makes that impossible. Consequently, organizations committed to the efficiencies of Lean manufacturing often use a range of tools to identify and eliminate defect opportunities from their process.

SigmaTron International's Tijuana, Mexico, facility uses a number of these tools in this process. During project launch, advanced product quality planning (APQP) failure mode and effects analysis (FMEA) is used to set up the most efficient, defect-free process. The product part approval process (PPAP) is used on automotive projects to validate the process, while customer-specific validation processes are used for projects in other industries. Once production is ongoing, statistical process control (SPC) and other forms of quality data collection and monitoring are utilized to monitor processes and track defects. When defects occur, a kaizen event is scheduled, and tools such as 8D problem-solving, Six Sigma's Define-Measure-Analyze-Improve-Control (DMAIC) and poka yoke are applied to analyze and correct the root cause.
Read more ...