Details

Written by

David Bernard, Ph.D.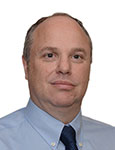 CT takes time, but can virtually microsection and analyze any plane in an entire sample.

2-D offline x-ray inspection of electronics is directly analogous to 2-D medical x-ray imaging, the only difference being image magnification is required to see the much smaller features within electronic devices and boards. (Also, the sample doesn't talk back!) Medical x-ray imaging also offers CT scanning (also known as 3-D x-ray or computer tomography or CAT scans), and the same technique is available for electronics analysis. From Greek, tomography means writing slices.

CT provides a 3-D density map model of the sample from which virtual 2-D x-ray slices can be taken and examined in any plane within the model. Consider it like being able to take virtual microsections anywhere, at any angle and as often and repeatedly as desired through the sample without having to cut, pot, polish, optically image, repolish, re-image, etc., as when making a traditional microsection. 3-D representations of the sample may also be created and virtually sliced (FIGURES 1 to 3).
Read more ...