Details

Written by

Clive Ashmore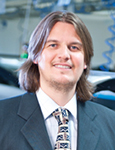 Accommodating for warped boards.
The current consumer electronics manufacturing climate, which dictates thinner boards and stencils, component placements right to the very edge and panelized assemblies with a significant amount of routing, makes it increasingly challenging to ensure board flatness and coplanarity for a good stencil printing outcome. But, as you know from reading this column regularly, one fact is nonnegotiable: Good printing results require a tight stencil-to-board gasket across the whole of the panel. (See "For Successful Printing, Don't Blow the Gasket," October 2018.) This requires the PCB to be flat.
Board warpage – or bow and twist, as I like to refer to it – has always been a key consideration for stencil printing. However, in the past, the 2mm-thick boards being processed were more likely to arrive from the fabricator flat and remain that way through topside printing, reflow and bottom-side printing. The occasional bowed panel was easy to rectify with over-the-top clamps and a good tooling vacuum. Today, however, as consumer PCBs have become thinner, with more routing (interspace) around the supporting panel, warpage is a far more common and vexing issue. Smaller, higher-functioning consumer products have moved us toward 0.6mm-thick boards and stencils as thin as 80µm (and thinner). This combination of factors is making PCB bow and twist increasingly likely and its traditional remedy less than ideal in isolation. Any interspace created during the printing process introduces the opportunity for defects not only with board-to-board repeatability, but also within the panelized PCB from corner-to-corner and side-to-side.
Read more ...