Details

Written by

Clive Ashmore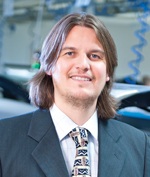 Not sure how to tackle an alignment issue? These tips might help set you straight.
In today's slang, a "life hack" is any trick, shortcut, or proven workaround for a given task that increases productivity and efficiency. And, as regular readers will be acutely aware, this column's focus is all about improving printing productivity and efficiency. So, I thought a series of "screen-printing hacks" might be helpful to engineers, no matter the level of experience. Throughout 2020, this space will periodically delve into various screen-printing hacks; an issue central to a good print outcome will be identified, and I'll cover some ways to get the process back on track if something goes awry. The first installment of our screen-printing hack series is alignment.
The goal for the printing process is 100% alignment; the solder paste must align with the feature (the pad) on the substrate. When the solder paste inspection (SPI) system indicates this is not the case and offsets (paste not centered on the pad) are present, an alignment issue is most likely the culprit. Where do you start? Here's a list of the most common causes and potential fixes; i.e., hacks:
Read more ...