Details

Written by

Clive Ashmore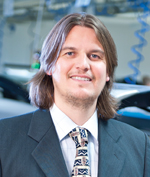 Achieving printing nirvana is largely dependent on solder paste material, print speed and deposit release.
Ahhhhh … screen printing utopia. We process engineers strive for this existence. In a perfect process, printed solder paste would emerge from the stencil as exact replicas of the aperture shape: nice, flat, brick-like deposits. And, while modern printers and advanced materials get us close, solder paste is still, well, solder paste. The materials are not inks; they have a grain structure that is getting smaller in size and distribution and is suspended in flux. Try as we might, with these particles, there will be material undulation at best, and flat paste surfaces will likely never be a certainty.
With printing, we must be pragmatic. It's not a digital process, and many variables come into play. The goal, of course, is to fill all the apertures on the stencil fully with solder paste to obtain the best deposit shape and volume possible. This is easier said than done, as the range of aperture sizes across a stencil can be broad, with 1mm square, 300µm and 200µm openings next to one another. Each of those apertures – from the very large to the very small – must be filled. Since printing with different thickness stencils is a nonstarter (generally and practically speaking), compromise is required, and that challenges our utopian ideal. Squeegee pressure, stencil thickness, print speed and separation speed must be balanced to accommodate variations in required deposit sizes. When all inputs aren't optimized and in perfect balance, solder deposit shape differences can have the potential to introduce process problems. Known in the printing world as "dog ears" on square or rectangular deposits and "witch hats" on circular deposits (FIGURE 1), these solder paste deposit peaks may be defect bugbears, especially in the world of high-density, miniaturized assemblies.
Read more ...