Details

Written by

Clive Ashmore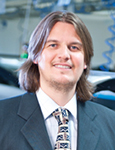 In the first of two parts, our columnist looks at the printability of Type 5 and 6 pastes.

In understanding the dynamics of reliably assembling metric 0201 components, an analysis of all key process steps – printing, placement and reflow – is required. While effective printing is central to the success of steps down the line, the reality is that with dimensions this small, the integrity of all elements is critical. With this as the backdrop and informed by previous analysis of metric 0201 printing, our company engaged in comprehensive evaluation of metric 0201 assembly, beginning with printing and the most viable materials for the job. This column will present findings on the stencil printing investigation, and, in a departure from the normal "printing" focus, the next column will reveal the placement and reflow study results.

To begin, we wanted to gain an appreciation regarding the effectiveness of certain solder paste materials. In full disclosure, this was not an exhaustive evaluation of multiple solder paste suppliers' materials. Rather, our team selected two suppliers and three materials with which we have had past success. This is an important point, as not all materials are created equal and, in evaluating Type 5 and Type 6 solder pastes, it is imperative manufacturers test them under specific manufacturing conditions with specific tool sets, as all variables play a role in performance.
Read more ...