Details

Written by

Clive Ashmore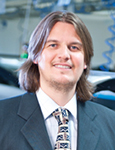 Why print offsets occur and how to correct them.

Printing offsets – the degree to which a material deposit is off center from the pad – can occur due to three primary elements of printing: the printed circuit board (substrate), the stencil and the printer. Each has to be manufactured and is surrounded by a process bandwidth, each with its own tolerances that can accumulate. Add to this the variables from different manufacturing methods, sites and base materials and, well, offset inevitability becomes obvious.
Let's begin with the board and stencil. Gerber data is king; it's where the designs begin and is the blueprint for PCB and stencil manufacture. Simply put, Gerber is an x, y coordinate and angle for a certain feature size and shape. When an offset occurs, it is the difference between what the Gerber says and what is actually produced. At the PCB level, the offsets derive from the artwork, the subtractive chemical process and the FR-4 laminate. Each of these has the potential for variability, as in the case of FR-4 that can stretch and move during temperature processing, because the coefficient of thermal expansion (CTE) is relatively poor, especially considering today's dimensions. Given these realities, the board could be off in one corner, or it could be a gradual movement from the left corner to the right, from the center outward or just focused in one area of the board.
Read more ...