Details

Written by

Tim O'Neill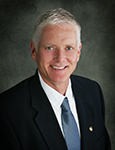 Soldering is the only process where the outcome can be impacted in real time.

One of AIM's field engineers came back from a cross-country trip this week with stories of a profiling issue that was giving the client difficulties. Ultimately, the issue was design-related with a large ΔT that could not be overcome with the equipment used in production. It took a full day of attempts to make that final assessment.

Many engineers and technicians I work with rank reflow profiling alongside getting their teeth cleaned or an early morning workout. You know you need to do it, and the benefits are significant, but they aren't immediate, and it is an unpleasant chore. Let's take a minute to go over best practices for reflow profiling. Ideally, a "golden board" will have been supplied as part of the work kit by your customer or your design team. This board (FIGURE 1) will be a sacrificial, fully populated assembly with thermocouples attached (ideally five to seven) with high-temperature solder in strategic locations across the assembly. This board can be processed through the reflow oven to collect detailed information to ensure proper solder reflow temperatures are achieved within the temperature constraints of other components on the assembly.
Read more ...