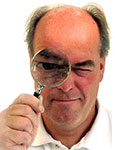 Excessive temperature or moisture may be to blame.
Open connections on area array packages can be difficult to spot, particularly if they are intermittent electrical failures like the examples in FIGURE 1. One or more open joints can occur between the package and solder sphere or at the PCB pad interface. Reflow soldering with either convection or vapor phase can cause packages to move and separate. This can be caused by warping of the package or in some cases minor popcorning due to moisture. Both faults can be simulated and recorded with video for reference.
To continue reading, please log in or register using the link in the upper right corner of the page.