Two sites. Two coasts. One system.
FREMONT, CA AND BILLERICA, MA – More than a handful of companies are offering independent conformal coating and encapsulation services in the US. Some even have multiple locations.

Those with sites on both the East and West Coast, however, are a rare breed.

Specialized Coating Services spent 18 months looking for a new location in the Boston area to complement its 22-year-old business in the Silicon Valley. Ultimately, the right place was found in Billerica, about 25 miles northeast of metro Boston. There, in a small industrial park, SCS set up shop in late May.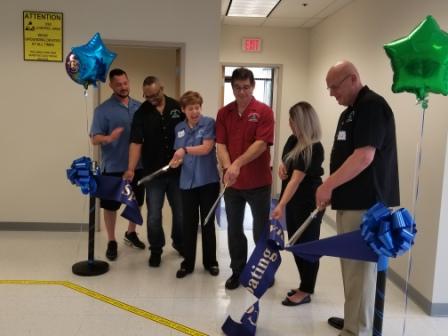 Grand opening. Cofounders Kim Atkins (center left) and Rick Ramirez (center right) cut the ribbon on the new Billerica facility.

At the new site, SCS offers a variety of services, ranging from cleaning to masking, coating, potting and encapsulation. The typical product is a Class 2 or 3 assembly that is being prepped for a ruggedized environment. As such, PCBs headed for use in military, aerospace or automotive applications are commonplace, but SCS also handles the occasional product from leftfield, such as boards that measure wine acidity in barrels. Products ranging from motorcycles to audio speakers to cars all have protective potting, SCS said.

The Billerica and Fremont sites are similar in equipment sets. The new facility features a PVA Delta 8 robotic coater, while Fremont has five PVA models, including PVA 6000 and PVA 650 conformal coaters. PVA is preferred, SCS said, for its tech support. Fremont has a Crystal Mark Swam Blaster micro-abrasive blaster.

Both use Zestron chemistry with Aqueous Trident aqueous washers and Zero Ion ionic contamination testers. (SCS is a demo site for Aqueous.) About 70% of boards get washed in-house, SCS estimates, with the rest left as-is because of component restrictions. Plasma treat is used as needed for better adhesion.

Dedicated spray booths are onsite, one for silicone and the other for acrylics, urethanes and epoxies. A top blower pushes heat in to improve temperature control.

Staff members wear different coats that indicate which side they are working on, and change clothes when switching from material to material to prevent cross-contamination. Dedicated tables are set up for preparing and masking boards prior to spraying.

In the silicone room, air is pulled in and filtered, then exits in accordance with California regulations for VOC emissions. The firm uses Desco air ionizers.

Two Grieve curing ovens and an SCH Technology UV cure system round out the shop floor. Fremont offers final inspection, while in Billerica microscopes with 200x cameras were on order at the time of CIRCUITS ASSEMBLY's visit.

In Billerica, a special "mission critical" room is set up for space assemblies. Once they reach receiving, boards bound for that room are not touched by human hands. They are transported in covered carts, and all operators wear ESD wrist straps, gloves and use grounded benches.

The factories are essentially paperless, with all travelers now digital. Both factories are completely linked. Every board is tracked throughout its respective processing. SCS processes 2,000 to 3,000 boards per day in Fremont, and expects to reach that output in Billerica over time.

The normal turnaround time is five days. However, quicker turns are possible. "There have been customers who will say, 'This rocket has to go up, and we forgot we needed it coated. We'll work through the night if we have to.'"

From three employees in a 2,000 sq. ft. garage in Fremont in 1994, SCS has now reached more than 100 workers spread across an aggregate 36,000 sq. ft. The Billerica site is 13,000 sq. ft., while the latest Fremont location they've called home for the past seven years is 23,000 sq. ft.

The company boasts certifications for AS9100D, ESD 20.20, ISO 9001:2015 and ITAR. It expects to obtain Nadcap next year.

While much of the production is labor-intensive, automation is coming. SCS has six or seven robots at Fremont, for instance.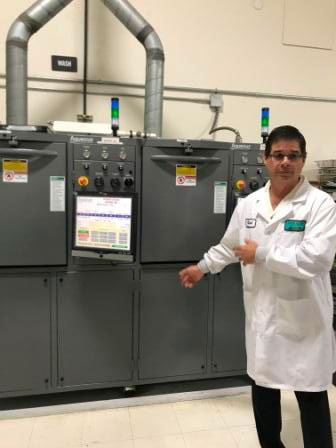 SCS uses common equipment sets across both sites.

Still, change comes slowly for some customers. For instance, SCS has been spray-coating the same aerospace board for 15 years. That particular assembly is dipped twice before spray and requires complicated masking. It's highly labor-intensive. "The process is dictated by the customer because they know it works," said Rick Ramirez, who cofounded SCS with Kim Atkins in 1994. The customer sticks with the old process even for new products.

Yet new areas beckon. SCS recently received a request from a customer in Chicago to do dipping with nanocoating, for instance.

Sales are growing. The Billerica site was launched to satisfy the 20% of the customer base located on the East Coast, and overall sales for the company are up 20% to 30% so far this year.
Mike Buetow (mbuetow@upmediagroup.com) is editor in chief, and Chelsey Drysdale (cdrysdale@upmediagroup.com) is senior editor of CIRCUITS ASSEMBLY.
Register now for PCB WEST, the leading trade show for the printed circuit design and electronics manufacturing industry! Coming Sept. 11-13 to the Santa Clara Convention Center.