The annual IPC trade show had more energy – and equipment – than in years past.
All trade shows reflect moods, good, bad or indifferent. Usually those moods are a sign of the times. In good years, participants will dismiss a slow show as an anomaly. In down years, often the pessimism overwhelms even the better event.
There is a decided upturn in mood this spring, and it was on display at the annual IPC Apex Expo trade show in mid-February. Traffic seemed improved over 2016, energized perhaps due to the move to San Diego (from Las Vegas) and a brighter outlook for electronics fabrication and assembly in North America, even if the results aren't yet in line with the sentiment.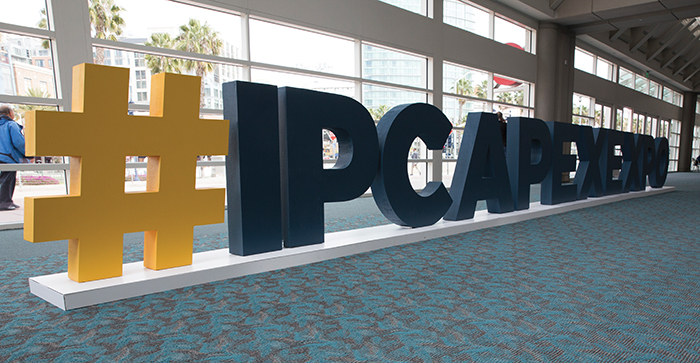 It was a good show. Besides a 20% jump in attendance, the amount of equipment spread across five halls was stunning. Even the fabrication section was relatively active.
The configuration of the (huge) San Diego Convention Center was much more manageable than last year's event in Las Vegas, which was a long, narrow dead-end arrangement that left exhibitors at the back feeling lost and left out. Exhibitors cheered when IPC president and CEO John Mitchell announced a deal to remain in San Diego for the next six years.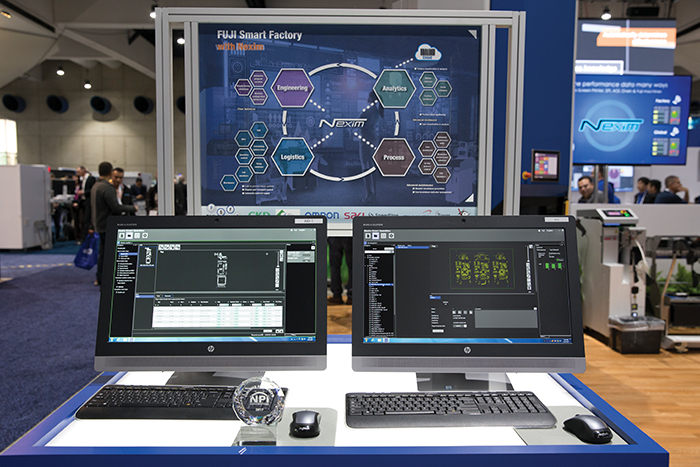 Assembly equipment was everywhere. Although robots were present in many booths (including ASYS, Seika Machinery, Simplimatic Automation and Teradyne), they were less hyped than in 2016. Advancements toward the smart factory remained front and center, however. Aegis released FactoryLogix 3.0, adding tools for optimizing the line beyond SMT. The latest rev integrates with the component storage towers so popular in the Americas and Europe. As CEO Jason Spera told CIRCUITS ASSEMBLY, "Assemblers almost always have excess inventory; yet the ERP system doesn't know exactly what the situation is. We can help with that." Data I/O's new Connex software for component programming tracks and records component-level traceability down to the individual socket, and data are extractable for analytics. Cogiscan's similarly named Co-nect enables Industry 4.0 by connecting different process equipment to higher level software.
More and more, the software specialists will be competing with traditional OEMs such as Fuji, Panasonic and ASM. Those companies continue to develop software tools that overlay and connect factory machines and operations. To that end, ASM downplayed its individual machines (the new lower-cost X3 placement machine was shown in the booth of its North American distributor Technica) in order to highlight the comprehensive nature of its factory solutions. The conglomerate's research has found the ratio of workers in a company warehouse versus the staff on a line can be 3:1, meaning labor costs are tied up in inventory, not production. In response, ASM engineers are seeking to help resolve downtime due to a lack of material present on a given line. Fuji featured its Nexim factory control software, an enterprise-wide solution for managing programming, scheduling, inventory management and real-time factory analytics, as well as ERP integration.
Most of the major placement OEMs had new machines (or at least new to North America). Footprints are narrowing on even the fastest machines, as evidenced by the Yamaha YSM 40R, capable of placement rates of 200,000cph. Universal Instruments showed the Advantis V, a new placement machine with the same feeders and software as the higher-end Fuzion but at a lower price point, while offering three configurations: high-speed (two 30-spindle heads and a 66,500cph rating), low volume (one head), and a multifunction version with one seven-spindle head. Also, tools for wafer fanout and handling are in development.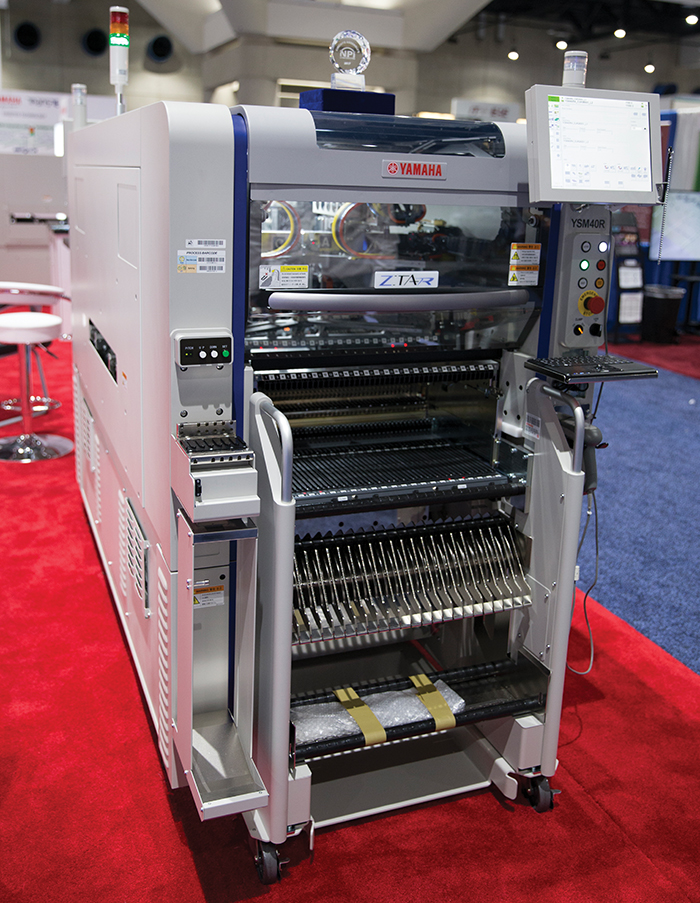 HIGH SPEED The Yamaha ZTAR brought new levels of placement speed in a compact footprint.
Elsewhere on the line, Speedprint rolled out a barcode traceability package called S-Track on its SP710 printer platform. The software places barcode labels on boards while still in the printer. DEK's E series printer comes in four versions, with reported cycle times of 11 sec., and handles boards up to 29".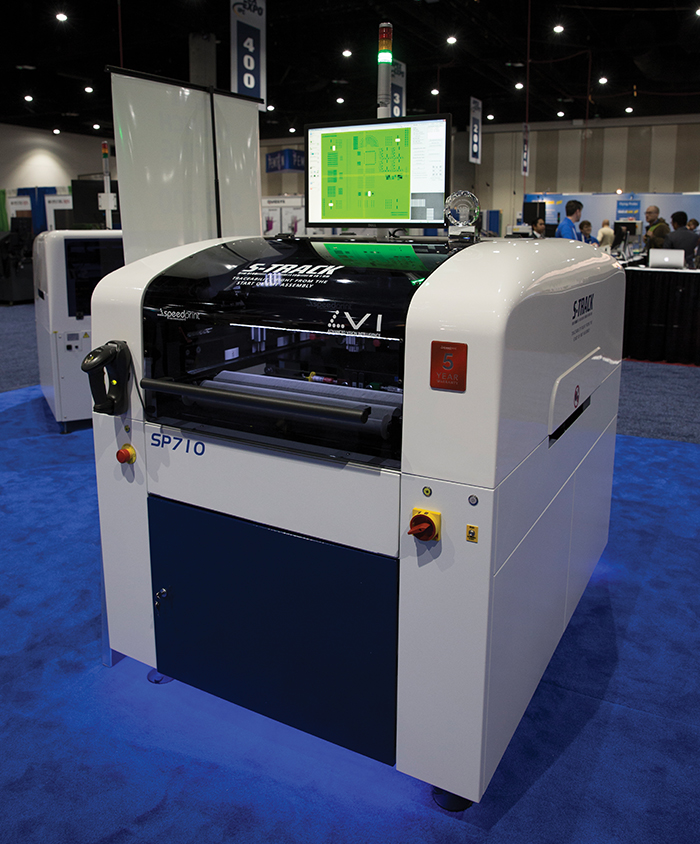 IN PRINT Speedprint's S-Track adds barcode attachment to a stencil printer.
Nordson Asymtek had a beta version of a closed-loop inspection system called Pulse installed on its Spectrum II dispenser. GPD Global showed SimpleCoat, a selective conformal coater and dispenser with two dispense pumps and a needle dispense valve.
Vitronics demonstrated Cathox, a novel flux management system that catalyzes flux residue from the inside of convection reflow ovens while the machine is running, reducing maintenance time. The tool is available on Vitronics' Centurion dual-lane convection reflow oven for now, but ITW representatives intimated that they haven't ruled out making it available to other vendors. BTU's Pyramax ZeroTurn dual-lane reflow oven has independent process chambers for greater flexibility and eliminating changeover time. BTU is developing customer interfaces for Industry 4.0.
Vice president of R&D Dave Suihkonen said a new, smaller version of IBL's vapor phase rework machine is in beta at a major military contractor.
While OEMs like ASYS continue to refine their robotic handlers – its Pulse UNITR robot which debuted at Productronica in 2015 was on display – robotic soldering appears on a steeper trajectory for now, and companies like Promation are well-positioned to capitalize. Promation also had a new high-speed inline laser marker, the LM 100.
Automotive has been the underpinning of the electronics recovery for years, and a host of new materials are designed to service that market. Henkel's latest solder is Loctite HF 2W, a water-washable tin-lead solder for high-rel applications. Alpha showed its Innolot-type solder paste, OM-358, which is low voiding. Kester unveiled WP601-ZH, a halogen-free, lead-free, water-soluble solder paste designed for soldering in air. Alpha also had a low-solids, Tetraglyme-free, no-clean flux called EF-2100, which is Bellcore and SIR compliant. AIM Solder's latest contributions to harsh environment electronics were the REL61 and REL22 lead-free alloys, a pair of low Ag SAC solders (available in bar, wire or paste) with bismuth adders that melt at about 208°C and reduce tin whiskers.
Closing the smart factory loop, several test and inspection suppliers discussed their advances. Saki America general manager Quintin Armstrong described the intricacies of properly aligning data sent bi-directionally between front-of-line and end-of-line equipment. Particularly for automotive and autonomous vehicles, the lack of a common platform for machine-to-machine (M2M) functions can be limiting, he noted. Saki has been working with Fuji, Panasonic, ITW EAE (Speedline), DEK and others to develop such a platform. Cencorp showed the XPRS test handler, an inline parallel tester designed for high-volume production and customizable to each product and production process.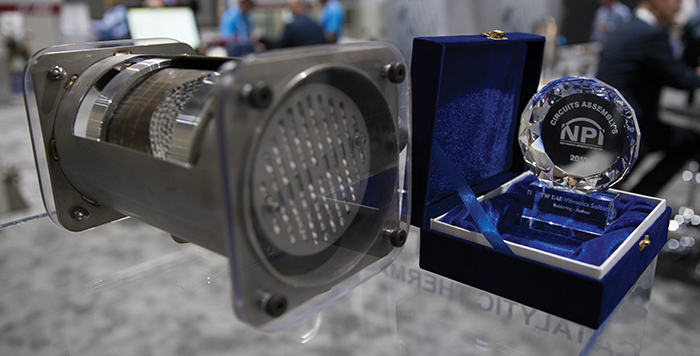 Fab Recovery
There was more fabrication equipment than in past years, although, unlike the assembly side, most of it wasn't plugged in. (One exhibitor used its via fill machine as a brochure display.) There were direct imagers (Orbotech, Miva), plating (Technica), and a couple mechanical drills (Via Mechanics, Schmoll).

Rogers has developed the 92ML series of laminates and prepregs for high power electronics. The epoxy-based systems are halogen-free, flame-retardant and thermally conductive.
Polar Instruments now takes into account copper roughness for higher frequency materials to the Speedstack Stackup Builder. Speedstack Flex now aligns different materials (rigid and flex) on the same layer in the same stackup. It also exports stackups with impedance calculations to the CAD tool. A proportional view of stackups and traces is in beta.
Years from now, we could be reminiscing over the first time we saw the Nano Dimension 3D printer. Called Dragonfly 2020, it produces multilayer PCB prototypes using silver nano-particle conductive and dielectric inks deposited via an inkjet system. Nano Dimension is rapidly developing the machine, which is in beta at six sites around the world.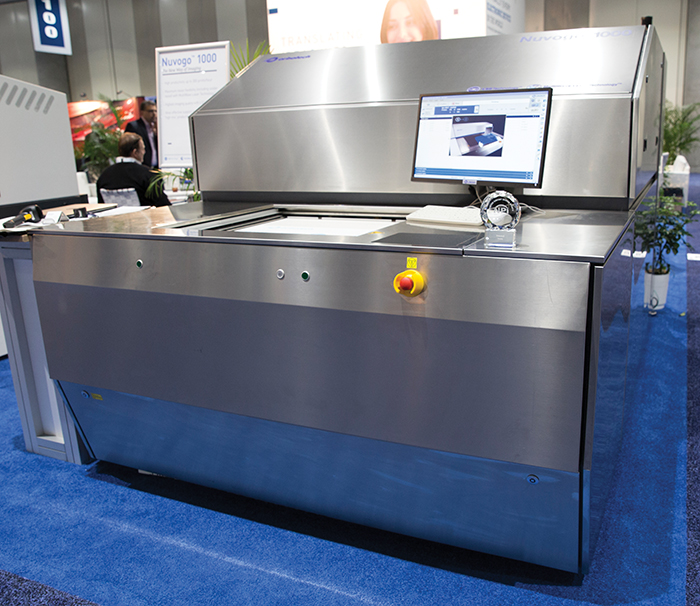 60 Years and Counting
The 60th anniversary of the founding of IPC brought back many venerable names, including founding executive director Ray Pritchard. It also served as a reminder to some of how far IPC has grown from its bare board roots. Conceived to provide a path for fabricators of the then new "etched printed wiring" technology to compete against the mighty Zenith (and fix prices), IPC spent the bulk of its first 35 years centered on that market segment. The emergence of assembly, with its bigger market and bigger potential, permanently changed the association's trajectory.
Fabrication remains a sore spot, although an effort led by a trio of IPC Hall of Famers tried to change that. Forum chairman Gene Wiener put together a stellar day-long program of talks, ranging from market conditions to technology. Unfortunately, fab shops didn't bite; fewer than 10 were present when a PCD&F reporter surveyed the proceedings.
Among the revelations was the continuation of the release of data from a lengthy survey of the US PCB industry conducted by the Department of Commerce.
Expanding on the first phase of the data release from PCB West last year, Commerce representatives noted supply-chain issues permeate the 202 facilities remaining in the US. More than 40% of respondents indicated problems obtaining spare parts, while 45% added that the shrinking number of laminate suppliers is constraining their factories. Respondents also indicated that plating (16%) and drilling (15%) are the two biggest causes of production bottlenecks, followed by CAM (14%) and, in a distant fourth, electrical test (8.8%).
Pauls to Hall
At the beginning of the week, longtime standards developer Doug Pauls became the newest member of the IPC Raymond E. Pritchard Hall of Fame. Pauls, a principal materials and process engineer at Rockwell Collins, has been a stalwart on IPC committees ranging from circuit board cleaning to performance over the majority of his 30-plus-year career. He has chaired the Cleaning and Coating Committee and led the trade group's efforts in bare board cleanliness, solder mask, surface insulation resistance, chemical characterization, conformal coating, cleaning processes, and materials and process compatibility testing. He has also participated in numerous national and international consortia on electronics manufacturing materials and processes. From 2012-14, he chaired the IPC Technical Activities Executive Committee (TAEC), which oversees all IPC standards activities. He also is a fixture on the IPC TechNet help forum.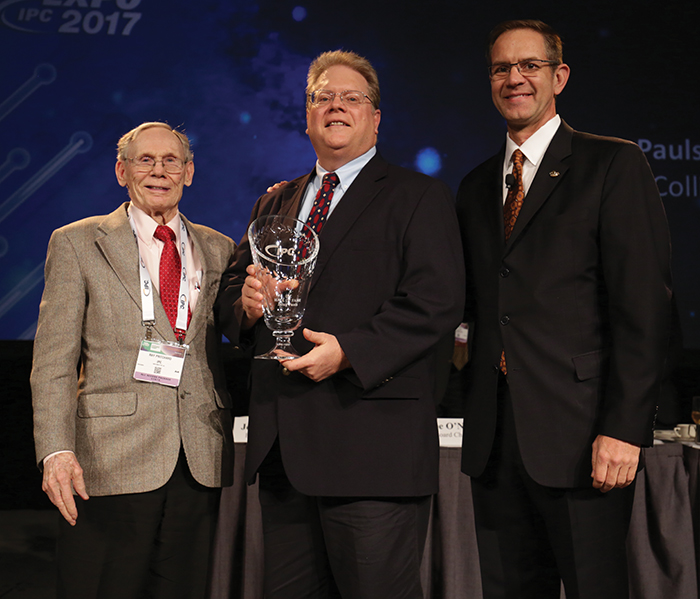 STAR TURN Doug Pauls (center, with Ray Pritchard and John Mitchell) is the newest inductee into the IPC Hall of Fame.
Final Thoughts
The keynotes were mixed. Duke engineering professor and researcher Missy Cummings described work on drones, and the inability to escape certain ethical dilemmas of using "unmanned" technology. On the other hand, actress Mayim Bialik left some observers scratching their heads over the incongruity of a doctor in neuroscience encouraging home schooling.
Rebranded as ITW Electronics Assembly Equipment, the Speedline Technologies name was nowhere to be seen. Likewise, the transition of Samsung to Hanwha Techwin is complete. It will open a Center of Excellence in Cypress, CA, in May.
Equipment and materials vendors continue to dominate the proceedings. There was a smattering of Chinese-based fabricators, plus All Flex, i3, Prototron Circuits and Sanmina. EMS providers and CAD/CAM software companies are relative rarities.
A sad moment occurred just before the show opened. On Feb. 12, Donal McDonald, editor of Electronics Production World, passed away in his hotel room. The
staff of UP Media Group mourns the loss of our industry colleague and friend.
Mike Buetow is editor in chief of PCD&F/CIRCUITS ASSEMBLY; mbuetow@upmediagroup.com. Chelsey Drysdale contributed to this report.