Titan Circuits has added a flagship Speedprint SP710 screen printer to broaden its process capability. The Phoenix, AZ-based ISO 9001:2015 and AS9100d certified electronics contract manufacturer acquired the printer to support its strategic objectives to address the widest possible range of PCB assemblies – and never have to say 'no' to a customer.
At the inception of the Titan Circuits business, operators printed SMT solder paste by hand. A move to a pre-owned semi-automatic screen printer proved the value of a higher quality printing process and led management to make a strategic investment in the Speedprint SP710AVi machine ahead of time. Management was able to focus on strengthening the Titan Circuits commercial infrastructure, create a new website and expand the company's board assembly capability, including the addition of the new printer.
"We continually invest in state-of-the-art equipment, so we were going to need a printer that matched the rest of the line," Production Manager, Frank Insana explains. "A semi-automatic machine acquired from auction wasn't going to cut it. Having to realign the hand and semi machine was frustrating and too time consuming."
Titan Circuits visited Speedprint at the APEX Expo in San Diego to see the company's flagship SP710AVi machine, then took part in an online demo. In assessing vendors in the SMT screen printing market, they looked firstly for simplicity and ease of use, and then for an ability to address large boards. Some printers evaluated seemed overly complex, Insana says. In contrast, the SP710 offered a straightforward path to productivity.
"Maximum board width was also a big factor," says Insana. "Speedprint's was the widest as standard. As a CM, having the ability to process as many board types as possible is critical. Our customer base is out-of-state and overseas, and we regularly see large, complex boards. We really don't want to say 'no' to a current or potential customer."
Insana also points to competitive pricing for the SP710 machine and to the responsiveness of Speedprint during the evaluation and procurement process. "We valued that, along with the customer support that has always been there when we needed it. Overall, I'm very pleased with the printer and the user experience," he concludes.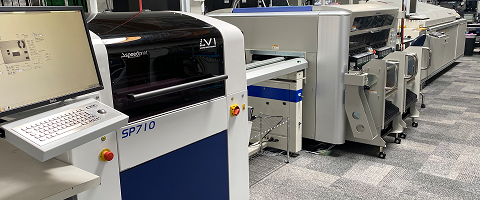 PCB West Virtual 2020 has more than 125 hours' worth of technical sessions on printed circuit design and manufacturing available through Oct. 12. pcbwest.com