Faced with a doubling of its workforce, a new production schedule emerges.
One of the big hurdles in the reshoring trend is recruiting new talent as jobs come back. After two decades of focus on growing the service economy while watching manufacturing move offshore, the pool of trained production workers has shrunk dramatically.
Grand Rapids, MI-based electronics manufacturing services provider Firstronic faced this challenge last year. The company had successfully competed with low-cost labor markets and brought business back onshore. Six programs ramped in 2013. Five of those involve shipping product produced in Michigan to Mexico, China, Korea, or India. The sixth program involved moving work back from China. The total incremental export business represented approximately $12 million in sales in 2013 and will represent $30 million annually in sales longer-term.
This business growth has required the company to invest $2.45 million in building renovations, machinery and equipment. It also added 110 new full-time jobs, nearly doubling its existing workforce. Fortunately, Firstronic had strong support from local and state economic development entities to support these rapid growth plans. In September 2013, officials at The Right Place Inc., in collaboration with The Michigan Economic Development Corp. (MEDC), and Grand Rapids announced the approval of a $300,000 Michigan Business Development Program performance-based grant. Grand Rapids offered local tax abatements in support of the project. In December, Michigan's Workforce Development Agency awarded a $289,550 Skilled Trades Training Funds grant.

The biggest challenge for Firstronic was hiring and training 110 production personnel in a very short period. The availability of training funds enabled the company to select from a broader pool of workers than would have been possible if no funds were available, which speeded the hiring process. However, even with the availability of training funds to offset some of the cost of training workers with no production experience, the margins in the EMS industry do not support hiring personnel who are in training full time for a period of several months.

To address this, Firstronic adopted a 24/7 work schedule that has production employees working 12-hour shifts on alternating three-day and four-day weeks. There are four shifts. Shifts one and two work the same schedule of long and short weeks, with shifts three and four covering the alternate weeks. Employee training is scheduled in four-hour blocks on one of the days during employees' four-day "long" week off. Employees are paid for training time and can pick the day and time block that works best with their schedules.

This innovative scheduling approach is a win-win for both the company and employees because it maximizes employee free time, plus enables training time to be scheduled without interrupting normal work flow. Employees like it, and the training staff has done its best to provide a range of options that let employees with childcare or other obligations select a time that fits their schedule. It also provides a significant amount of training over a six-month period.

The goal of the training initiative was to create a program that was closer to apprenticeship than the basic skills training program typically offered in the EMS industry. To ensure that program included a strong industry-standard curriculum, the company hired in-house trainers certified to teach IPC-A-610, IPC-7711/-7721 and
J-STD-0001, respectively. A fourth individual with IPC-A-610 CIT and J-STD-001 Trainer Certification will be added to provide flexibility and expertise.

The new program has three phases rolling out during the first three quarters of 2014. Phase I focuses on core training for all employees; Phase II provides advanced system training, and Phase III defines and implements the company's new Certified Operator Training (COT) evaluations and classifications.

Phase I training involves 29 hours of classroom training over eight weeks that includes general human resources-related training on health and safety; basic production-related training on board handling, component identification, ESD protection, ERP system data entry and Kanban systems; and seven modules of IPC-A-610 certification courses.

Phase II training begins in May and covers the company's Plex ERP system in more detail. It also covers the requirements of the ISO quality standards related to the products that Firstronic builds. The goal is to ensure all production employees not only understand the manufacturing-related skills relevant to their job, but also see how their activities relate to the overall Lean product realization process and are able to use the systems associated with their segment of production.

By the implementation of Phase III in June, all job descriptions and competency evaluations will be finalized. Every employee will be evaluated for COT classification, and there will be a pay-for-skills component to incentivize workers who cross-train in multiple competencies. Firstronic takes a holistic approach to implementation of Lean manufacturing principles, and the ability of the workforce to be flexibly redeployed among production operations to support variance in demand is part of its overall strategy for keeping "Made in USA" costs competitive.

Firstronic is also working with local employment agencies to develop and launch a pre-entry screening training specific to electronics manufacturing. This initiative will help ensure potential new employees better understand the manufacturing environment, more quickly identify candidates with the basic skills required to be successful employees and integrate a portion of the new hire training program into the hiring process before employees ever walk through the door.

While the majority of the funding assistance the company has received is being used for in-house training, some monies will be used to reimburse employees taking courses at local technical schools and colleges.

The result of this public-private partnership is that a mix of in-house and industry standard training programs has permitted Firstronic to move its newly hired workforce from entry level to highly skilled in three-to-six months. Because the program also cross-trains employees to do multiple jobs and provides training on Lean manufacturing principles and continuous improvement methodologies, the workforce is highly efficient, in addition to well-trained. The ability to force multiply through a cross-trained workforce drives the higher levels of productivity that has enabled Firstronic to compete so effectively in the global marketplace. From a community perspective, jobs are being added more rapidly than would have been possible with no training funds offset, and another "Made in USA" success story is being written.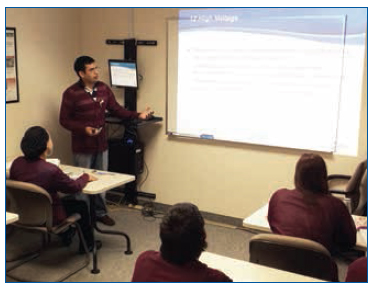 Training coordinator Jose Cortez teaches a class on component identification as part of Firstronic's Phase I production operator curriculum.
Tony Bellitto is director of quality at Firstronic (firstronic.com); tbellitto@firstronic.com.