Siplace now has DEK as a partner in the SMT business, and it's business as usual.
With two major acquisitions in a three-year span ASM Pacific Technology is fashioning itself into a major player in electronics process equipment. Just don't expect many changes, from the name on the door to even where the door is situated.

Its purchase of DEK complete, ASM now boasts two leading brands in its stable. Under the new structure, the screen printing OEM, routinely ranked first in the world in number of installations, will be grouped with Siplace, the former placement arm of Siemens, in ASM's SMT Solutions business unit.

As of July 2, DEK officially became ASM's Printing Solutions Division – the DEK brand remains in place – and in the third week of August, ASM held a global press event to celebrate, including facility tours at Siemens Electronic Works in Amberg, Germany, and at Siplace's headquarters in Munich. Not surprisingly, excitement and expectation filled the air.

"The DEK acquisition is the perfect fit for us," said Günter Lauber, CEO of ASM SMT Solutions. Over the next two days, he explained why.

The story starts with reach. No one disputes the size of Siplace, also known as ASM Assembly Systems. In the first half of 2014, ASMPT had $765 million in billings, with year-over-year growth of 19.2%, its second highest half-year ever. SMT equipment accounted for $240 million in the first half, good for year-over-year growth of 9.7%. The pace is accelerating versus 2013, when Siplace grew 3.4% to $505 million. Backend equipment sales added another $670.4 million to the company's coffers in 2013. DEK is expected to boost those revenues as well, as many of ASM's customers use DEK printers for system-in-package assembly.

At the end of 2010, just prior to the ASM deal, Siplace was third in the world in SMT placement machine installations, first in Europe, second in the Americas, and fourth in Asia, according to Lauber, and by the end of 2013 Siplace had moved up one spot to number two in the SMT placement market.

With the acquisition of DEK, however, ASMPT has in place the potential to reach its lofty goal of being the number one supplier in the SMT equipment market by 2016. Lauber stressed this vision more than once throughout the press conference, and the team is optimistic. While the respective brands do not provide specific numbers in terms of installations, said Ray Bruce, vice president sales & marketing, he allowed that production capacity is well into the hundreds per month.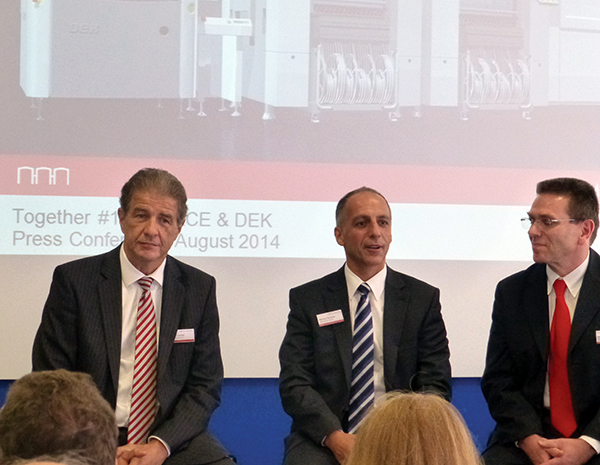 MAINSTAYS ASM Assembly Systems' executive team, from left: Günter Lauber, Michael Brianda and Günter Schindler.
This comes as the SMT equipment market is in recovery, up more than 10% compared to last year. China and Europe are leading the way, while the Americas is below average. Bruce asserts ASM's combined installed base of printers and placement machines is greater than that of Fuji's, but says there are no official stats on market share.
Few changes in store. For a look at how methodical ASM is, one need only look to its January 2011 acquisition of Siplace. Three years later, the management team remains the same, with Lauber at the overall helm and Günter Schindler heading the placement unit. DEK president Michael Brianda remains as head of the Printing Solutions Division. Moreover, Siplace's headquarters remains in Munich, far from its parent's base in Hong Kong.

"We don't want to change going forward," Lauber said, likening ASM to an old German oak tree that can't be moved from its roots. In fact, staffing at the Munich site grew by more than 10% since the ASM deal, supported by a production site in Singapore.

R&D is also remaining in Europe because the firm accepts "no compromises on quality." They don't see an advantage to moving to a lower-cost production area.
"The best solution is not necessarily the best price," Lauber said.

Munich is also the global R&D center. The ASM and Siplace R&D teams "share know-how" and provide "joint development of innovative new products for new markets."

The evidence is that Siplace machines will continue to be made in Munich and Singapore, while DEK's will be made in China and the UK, said Bruce, in a one-on-one interview. Any changes will depend on growth of DEK's products.

When ASM acquired Siplace, the company was able to leverage certain synergies: Siplace had access to the Asian market and a system already in place to support the business; the company was able to expand the Siplace product portfolio and reduce material costs.

ASMPT's technical core competencies, production know-how, and vertical integration will benefit from DEK's "decades of expertise," Lauber said. "With [this] important acquisition, we can diversify into different markets. We can leverage DEK and Siplace sales channels," which will "help implement our strategy much faster. 2016 is too late" to be number one overall in the global market.

ASM doesn't see a lot of overlap between Siplace and DEK, but said the combined brands offer better market coverage than before. One area of redundancy is now a non-issue: The firm is not moving forward with the Siplace printer.

"We developed a good printer that was confirmed by DEK, but two platforms didn't make sense," Lauber said. "Features from our printer can be used in the DEK printer," he added, without elaboration.
Global alignment. Now, with the European engineering of Siplace and DEK, combined with Asian flexibility, ASMPT is "truly a global company," Lauber said.
With the addition of DEK, Siplace is "not neglecting its own identity," but preserving it as a valuable addition to the overall company. The plan is to "work together" and "take advantage of each other." The market will continue to see both brands, but they can work on integrated solutions.

Bruce said, "In every market, we look for the best solution for the customer. India is a small market, but it's one to watch; it could explode. The customer will drive us."

What's important, the team stressed, is standardization of communication. The two teams are coming together, and ASM says no staff members will lose their jobs through the integration.

During a management panel discussion at the press conference, the team said customers of both DEK and Siplace have responded very positively to the DEK acquisition. Many DEK customers aren't Siplace customers, and vice versa, so there are opportunities, and customers still expect the same level of service.

It will take time, they said, because there are "definitely feelings involved. People have to align." The Siplace team understands what it feels like to be acquired, and that will help with the DEK acquisition.

Management is not ruling out more acquisitions in the future, stressing the industry is a culture of change, but declined to offer a definitive "yes" or "no." Future deals will depend on what makes most sense for the customers and the business, they said.
Technology advances. The business reach is significant, but ultimately it will be the ability to help customers build product at the highest yield and lowest cost that will make or break the new alignment.

To that end, Siplace has designed and created a demo board to help ensure its machines keep pace with the most difficult designs its customers can throw at it. The smallest component on the board is a metric 03015, which is 40% smaller than the 01005. Says Christoph Oeckl, head Siplace Applications Center, "It's a step toward miniaturization – a very short step." The 0201 metric is coming soon, he adds, shaving another 40% off the metric 03015s.

The board shows every solution Siplace is able to provide. This board helps customers solve problems; they can discuss issues with the right people to find a solution. With the demo board, Siplace "can see industry trends clearly. The most popular trends are on the demo board." The four main industries represented on the test board are smartphones, LEDs, automotive and industrial electronics. The handheld devices are driven by subminiature packages, while the industrial segment is where the taller and most odd-shaped components are used.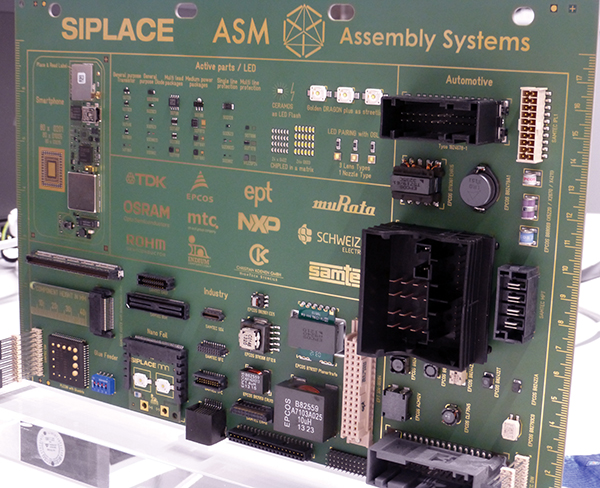 TREND WATCHING The Siplace demo board.
The demo board is nanocoated and laser cut and houses components from 40mm to 20µm. The stencil used to print solder paste on the board has nine steps. "A stencil with nine steps is extremely rare, but speaks to the incredible complexity of the demo board in use at the Siplace headquarters," says Brian Smith, general manager – Electronic Assembly Americas, who comes from DEK.

"We program the board, not the machine. It doesn't matter what the line configuration looks like. The software recognizes it and knows exactly what to do," Timms said. With the strategic alignment of DEK and Siplace, it's more important than ever to take variability out of the process, he said.

While the brands remain, there are changes ahead for the machine software, at least in terms of aesthetics. According to Bruce, the graphical interfaces will evolve into the same look and feel for the operator, but older machines will keep their underlying software structure.

For all its reassurances that the acquisitions mean business as usual, ASM is underselling one important change: Its consolidation of the process equipment market has brought tremendous process knowledge under one roof. Siplace employees number about 1,400 worldwide, with DEK adding another 700. It's safe to say that ASM's worldwide lineup of SMT engineers is unmatched in its depth and reach. It's now up to ASM to capitalize on that talent to write the next chapter of electronics history.

Inside the Siplace Factory

Life inside the Siplace factory in Munich is a lot like that of its customers: build and ship product as well and as fast as they can.

Every morning at 8:15, the facility holds a crowded staff meeting. And each day, the question is the same: "What kind of machine are we going to produce today?" Staff lists daily plans on the wall. Everything is built to order. And there's an emphasis on transparency, especially if a part is late or missing.

The facility's on-time delivery is over 70%. "If one part is missing in an order, we consider it not on-time delivery," says Alessandro Bonara, director electronic manufacturing, ASM Assembly Systems.

Once a week, staff meets to discuss forecasts and failed parts, and sales gathers monthly to update its rolling forecast.

On site, Mahr and Wegu machines test the Siplace placement machines for accuracy. "CPK specs are almost always nearly doubled," says Bonara. "The machines are always beyond specifications. Standards are important. "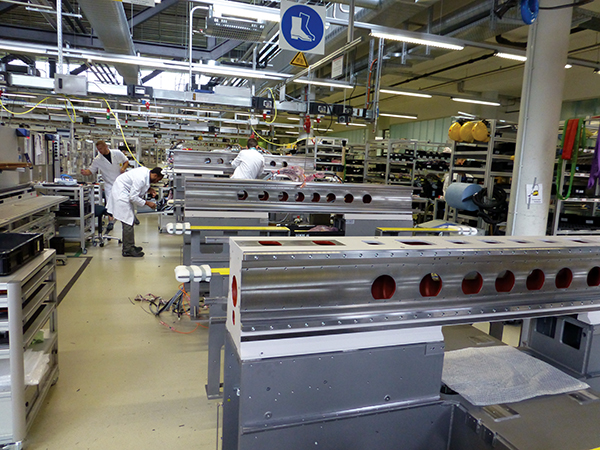 ASM AT WORK As the Munich factory assembly line moves machines from the perimeter of the floor to the inside, and then back out again, each system has an I-Beam at its core.
Jeffrey Timms, CEO and general manager Americas, ASM, adds, "We never worry about machine accuracy testing. Machines always pass with flying colors."
The process of building a machine from one end of the factory to the other takes fewer than 10 days, although the company's goal is cut that to under six. That's down from 50 days in 2008, yet quality has improved with the faster throughput.

The production floor resembles a car assembly line. Machines in progress are moved to different parts of the floor from the perimeter of the floor to the inside, and then back out again. The materials stay in fixed locations. Each step in production takes 105 minutes, and one line runs all types of machines.

It takes two workers to move a machine along the line, and each employee is trained to run all steps so that staff can circulate to different stations on the floor. As part of an ongoing effort to save time, the Siplace production floor is on a wireless system. Staff use Motorola PDAs to request parts to the line.

"For external suppliers, there is a warehouse in between, but with internal suppliers, we can get parts directly," Bonara said. They have a materials prep station to reduce production time. "When a machine is coming [down the line], materials are already ready."

The facility also boasts its own SMT line; Siplace produces its own boards. Indeed, key components are internally sourced. Vertical integration is desirable, Bonara said. "Siplace has 35%. We want to have more than 50%." Currently, DEK's boards are outsourced to an undisclosed EMS firm, but ASM expects to bring them in-house over time.

Next to the SMT line, a materials tower provides automatic scanning of reel IDs at a rate of 900 reels per hour. "Materials management is really, really important" to keep costs down, said Bonara.

Every step of the production process is tracked with an online checklist, including materials. "We test everything," Bonara said. "Every part that is mounted was tested."

At the onset of a machine build, the frame gets a "fresh test" in a closed, glass room; when the machine is finished, capabilities are tested.

The Munich manufacturing floor is impressive in its size, but Bonara said in 2009 they reduced the surface area by 80%. They have since increased productivity.

Even after its acquisition by Hong Kong-based ASM, Munich remains the Siplace manufacturing hub from which other regions are served. "We decided to stay in Munich; Munich has the development department. Development and production should be as near as possible. We keep production and development together every time," Bonara said. – CD
Chelsey Drysdale is senior editor, CIRCUITS ASSEMBLY; cdrysdale@upmediagroup.com.