Orange County's longest-operating EMS is all about reliability.
Fullerton, CA-based Golden West Tech has been assembling printed circuit boards for California's industrial, aerospace, and medical markets for more than 40 years.

The company believes it's the oldest contract electronics manufacturer in Orange County.
Golden West Tech was started in 1973 by CEO Dan Rieth in the same location it's in now. His son, Russ Rieth, is now in charge of daily operations.
Dick Fryhoff, business development, who has been with the firm for eight years, gave Circuits Assembly a tour of the 25,000 sq. ft. manufacturing facility. He says one of firm's strengths is its consistent high quality of the products built by its veteran workforce. He attributes this to the ISO and AS9100 standards in place, along with the stability of its staff. More than 50% of the employees who currently work there have been with the company longer than 20 years.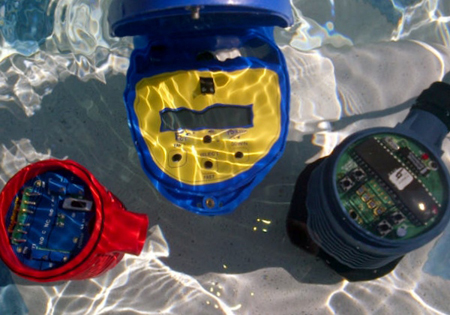 Figure 1. GWT builds product for ruggedized and, occasionally, wet environments.
The company serves three primary markets: medical, aerospace, and industrial. According to Fryhoff, industrial is the "most consistent," and it constitutes the largest piece of the overall business, at 40% to 50% of annual sales.
Medical and aerospace may present more interesting product opportunities, and account for 25% to 30% each of the company's business.
GWT's ideal customer "is a reasonably financed device manufacturer that's looking for a manufacturing partner that they can depend on to assist them in growing a successful business." The firm currently builds boards for heart monitoring, orthopedic, and cancer detection and treatment equipment.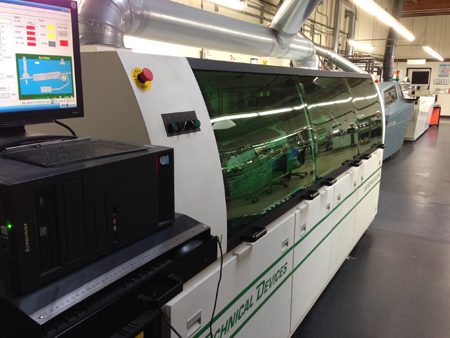 Figure 2. Cleaning is a must for all GWT product.
The medical sector is attractive and is a "growing opportunity," Fryhoff said. "It's especially good in the Orange County area."
"We are looking for more types of business like this," he added.
The lure of medical is one of the reasons the GWT's main trade show every year is MD&M West in Anaheim, where it has historically found good leads and has seen substantial follow-up.
"Our business is typically a local business. There are plenty of opportunities in the Southern California area, and having your supplier within short driving range allows for manufacturing issues to be resolved with face-to-face contact between engineers."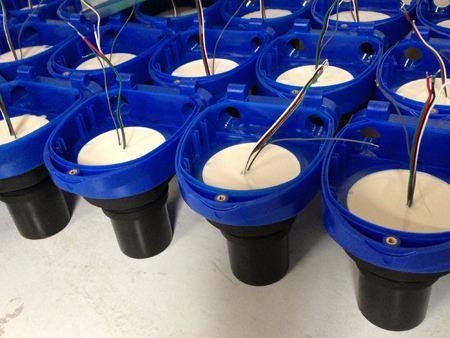 Figure 3. Potted industrial sensors.
Inside the manufacturing facility, GWT has a large, dedicated area for one particular customer that offers ruggedized flow and level measuring products for industrial applications. "It's a full turnkey job" of "hundreds of different products," Fryhoff explained. GWT builds, tests, pots, conformally coats, inspects and packages the parts for direct shipment.
The firm does some assembly tasks using customer consigned material, but the bulk of the business is full turnkey. "Turnkey is cost-effective; materials drive cost," Fryhoff said.
He characterized the overall market trend as solid. "Business currently is good for the company," he said. Last year, the firm experienced a dip, but since the 2009 recession, business has been generally on a steady uptick.
The cyclicality of EMS wreaks havoc on employment industry-wide. GWT has adapted by tightening worker hours during a downturn, versus laying employees off.
Doing so permits valuable and experienced employees to be retained, so the company can respond rapidly and with consistent quality when sudden growth spurts occur.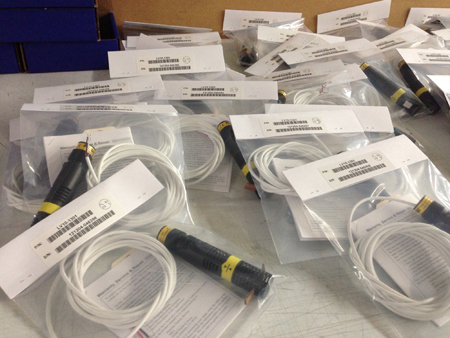 Figure 4. Probes ready for shipment.
Technology trends. Fryhoff said the semiconductor industry is what drives the electronics business. "The first semis were built on wafers that were two inches across; now they are 12 inches across and a lot more complex."
The nonstop demand for finer pitch components demands new equipment, which in turn is what drives new technology, Fryhoff asserts. Like other EMS firms working with high-reliability products, this means constant capex investment. "We have to keep up with our technology," Fryhoff said. "There's always some $300,000 thing you've got to have."
He explained the challenges associated with current technology trends. "The more complex the PCBs, the more opportunity for problems: failures,
cleanliness problems" – with or without flux, etc., he said.
In GWT's SMT assembly room are a number of automated assembly lines that precisely place the majority of components under programmed numerical control. The processes are automated, including inspection. The company recently upgraded its SMT line with an EKRA E4 printer, Fuji GL5 adhesive dispenser and Fuji IP3 and CP 743 placement machines. Selective soldering is performed on a Pillarhouse Jade S-200 station installed in 2012. A PVA 750 mans the conformal coating room.
About the SMT process, Fryhoff said, "Once programmed, you just have to flip a switch. Talk about cost reduction."
Golden West Tech pays particular attention to cleaning boards before and after assembly, using a Technical Devices batch cleaner to ensure assemblies are, in Fryhoff's words, "squeaky clean."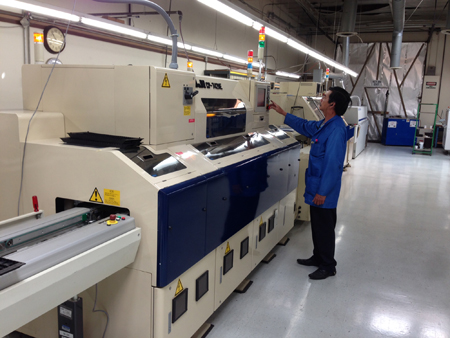 Figure 5. GWT relies heavily on Fuji SMT placement lines.
"Your cleanliness article [about Aqueous Technologies] was right on the mark," he said. (See CIRCUITS ASSEMBLY, March 2014: http://circuitsassembly.com/cms/component/content/article/159-current-issue-articles/15781-aqueous-technologies.) "A PCB goes through a lot to get fabricated. If it's not clean, there are problems later."
The facility features a room for aerospace customers where high-voltage screening is performed, and then the entire board is conformally coated after assembly. "It helps protect it from tin whiskers and extreme environments. Airborne applications receive some of the most environmental exposure," he said.
BGAs are becoming more common, which makes visual inspect impossible and led to the installation of a real-time x-ray imaging machine.
Even though the assembly processes are highly automated, some hand assembly is still required on most assemblies.
Golden West Tech uses both lead-free and tin-lead soldering. "It's about 50/50," said Fryhoff. The site uses color-coded travelers to distinguish between the two processes as jobs move through the shop.
When asked what he would tell designers, Fryhoff replied, "Designers are customers. By the time we look at a design, the customer is late. This is typical of the design business. We have to spend X amount of time so we can build it. You can't expect to recover lost time by shortening the assembly time allowed. High quality takes longer."
The firm measures its savings from eliminating manual SMT operations "every time we put out a quote. We have dozens of competitors," and "measuring cost is daily." The solution, he said, is to "focus on high-rel. [Customers] need it and can afford it. We're not making toys."
Fryhoff is a firm believer in the value of the company. "To know us is to love us; we're the best. The challenge is to get the opportunity to prove that." He pointed to the company's perfect size. "Five or six people are running the company and would kill for the customer. We never lose customers."
Chelsey Drysdale is senior editor of PCD&F/CIRCUITS ASSEMBLY; cdrysdale@upmediagroup.com.