Before blaming the placement accuracy, check for board vibration.
Figure 1 shows the misplacement of a package-on-package after dipping the balls in dip paste and reflowing the assembly. The solder paste has successfully reflowed and coalesced with the solder balls on the PoP. However, as the image shows, lifting the device reveals no solder joints on the pads. The clear rings of flux residues on the surface of the solder mask show only that the flux from the paste has been left behind.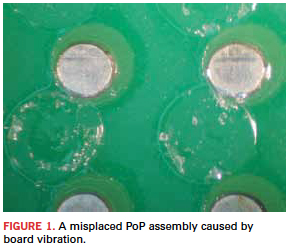 Misplacement of the device could have occurred after placement or during reflow due to board movement or vibration. It would be fairly simple for the part to be repositioned and soldered in place with suitable rework equipment.

These are typical defects shown in the National Physical Laboratory's interactive assembly and soldering defects database. The database (http://defectsdatabase.npl.co.uk), available to all this publication's readers, allows engineers to search and view countless defects and solutions, or to submit defects online. To complement the defect of the month, NPL features the "Defect Video of the Month," presented online by Bob Willis. This describes over 20 different failure modes, many with video examples of the defect occurring in real time.
Chris Hunt is with the National Physical Laboratory Industry and Innovation division (npl.co.uk); chris.hunt@npl.co.uk. His column appears monthly.