BANNOCKBURN, IL — Shipments by North American electronics manufacturing services companies in June were up 14.3% compared to the same month last year and 31.3 % sequentially, IPC said today.
EMS bookings for the month rose 61.3% year-over-year and 43.8% from the previous month.
"Demand for domestic electronics production remain at historic levels. Despite record orders in recent months, monthly shipments have been declining because of supply constraints and parts availability," said Shawn DuBravac, chief economist, IPC. "For the first month in several months, shipments rose in June, suggesting some shortages are starting to abate. But the market remains in disequilibrium -- EMS orders are roughly 15% above 2019 levels but shipments are 13% lower compared with the same time period."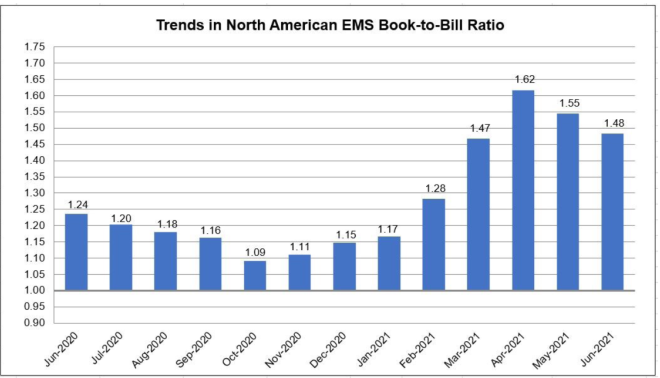 The book-to-bill ratio for the month was 1.48, meaning for every $100 of products shipped, $148 worth of orders were received. The ratio is calculated by dividing the value of orders booked over the past three months by the value of sales billed during the same period from companies in IPC's survey sample. A ratio of more than 1.0 suggests that current demand is ahead of supply, which is a positive indicator for sales growth over the next three to 12 months.
Register now for PCB West, the leading trade show for electronics design engineering, coming to the Santa Clara CA Convention Center Oct. 5-8!