WRIGHT-PATTERSON AIR FORCE BASE, OH – An Air Force Research Laboratory-led project in conjunction with NextFlex has resulted in the first functional samples of flexible Arduino circuit boards made by using a flexible hybrid electronics manufacturing process. The process sets the stage for smart technologies for the internet of things and sensor applications like wearable devices, the partners said.
"The possibilities for FHE (flexible hybrid electronics) technology are virtually limitless," said Benjamin Leever, Ph.D., AFRL Advanced Development Team leader and NextFlex government chief technology officer. "Proving the manufacturability of this technology through an open-source platform will expand FHE's reach even further by providing everyone from industrial product developers, to high school students, the opportunity to innovate on new electronics concepts."
Arduinos are microcontrollers that are programmable through open-source software. Whereas commercial electronics typically include proprietary microcontrollers, Arduinos can be used by anyone to quickly prototype an electronic device.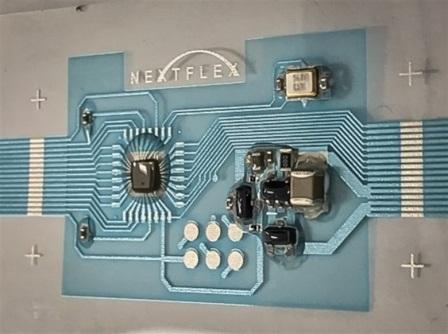 Unlike the fragile, rigid form factor of traditional microcontrollers, the flexible Arduino can enable rapid innovation in flexible and wearable devices for applications, including monitoring hydration status, glucose levels, heart-rate and more.
In the process of developing the flexible hybrid device, the NextFlex team reduced the number of manufacturing process steps by more than 60% and the weight of the circuit by 98%, ultimately increasing the possibilities for design applications. This was achieved by replacing the traditional circuit board with a thin, flexible plastic sheet, eliminating the traditional microcontroller packaging, and implementing digital printing processes for circuit elements. The high performance of a traditional microcontroller circuit is maintained through this combination of surface-mounted and printed features.
"As we look to innovation from non-traditional sources, the flex Arduino can enable inventors inside and outside the Air Force to quickly demonstrate new flexible electronics concepts," said Leever. "Moreover, the FHE manufacturing processes demonstrated by NextFlex in this project will be transformational for a number of Air Force applications. This technology may enable us to monitor the structural integrity of aircraft through sensors embedded in the wings or similarly monitor the real-time performance and health of an Airman through flexible sensor patches."
For the Air Force, leveraging the knowledge of the open source community, such as that inherent in Arduino, helps accelerate innovation, enabling new technologies with tremendous potential for the Air Force. The NextFlex institute plays a key role in this innovation process and is a valuable asset for the Department of Defense and industry alike.
NextFlex, Arduino, US Air Force Research Lab, Benjamin Leever, FHE