AACHEN, GERMANY -- The Fraunhofer Institute for Laser Technology in November will demonstrate how new battery cells and power electronics can be micro-welded more efficiently and precisely than ever before thanks to new optics and robot support.
Laser-Based Tape-Automated Bonding, or LaserTAB for short, relies on a clever combination of robotics and a laser scanner with new optics as well as process monitoring.
In focus is a new lightweight robot (LBR is German for lightweight robot) developed by Kuka Roboter from Augsburg. According to company statements, not only is the LBR iiwa, or "intelligent industrial work assistant (iiwa)", the first sensitive robot to be manufactured in series, but it also helps man and robot work closely together.
The Aachen researchers have mounted a relay-optic and a spacer on the collaborating robot (Cobot), the latter of which ensures that the optics complies with the distance (focal length) required for the process. The LBR iiwa "feels" when the spacer touches the weld and starts the welding process. Thus, the welding points are always held at a constant distance from the lens thanks to the spacer and the sensing robot.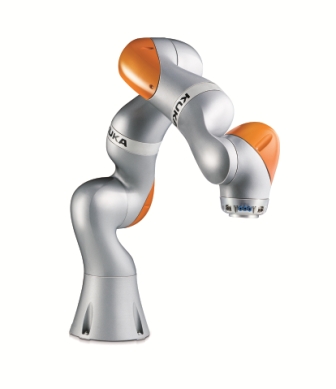 At Productronica in Munich this year, Fraunhofer ILT will be using concrete applications to demonstrate how the microjoining process in battery technology can be made more precise and reliable with the help of this lightweight robot. In detail, it is addressing how to better weld prismatic, round and pouch cells. In a demonstration, the institute combines the two processes of microjoining and 3D printing, in which this welding process plays a leading technical role. The Aachen-based scientists will be presenting a technology demonstrator on how a copper contact element can be connected to a round cell via LaserTAB. The Fraunhofer ILT has also developed a specially shaped copper connector, which it manufactures on its own with Selective Laser Melting (SLM), also known as Laser Beam Melting or Laser Powder-Bed Fusion (L-PBF).
All possible applications point to the advantages of the new robot-assisted process, in which the user guides the robot directly to the point of use. It saves the previous, elaborate search of the focus position and the cumbersome positioning of the laser. In addition, the spacer ensures that the focus position does not change during joining and that the connector is pressed against the workpiece or the battery. Elaborate clamping devices are, therefore, superfluous or can be less complex. In particular, users will appreciate how the system mechanically maintains the distance of the optics to the welding site, especially when they have to balance production tolerances or different heights. In these challenging situations with their mostly very complex geometries, the robot-assisted LaserTAB works much more precisely than conventional methods.