MANASSAS, VA – Dr. Harald Wack, executive VP and CEO of Zestron, describes his precision cleaning company as "a true multicultural experience." At the company's Manassas, VA, facility inauguration in May, his statement couldn't have been more evident.


German bratwurst and beer, a reggae band and a humid southern day brought together Zestron's customers, employees and members of the industry to tour the U.S. headquarters: a 15,000 sq. ft. technical center; a roughly 25,000 sq. ft. shipping warehouse; a raw materials storage facility; and engineering, marketing and customer service offices, all on 11 acres of open land for future expansion. The tour capped off a day begun at the Smithsonian National Air & Space Museum in nearby Chantilly, VA, a fitting site for the new facility taking flight.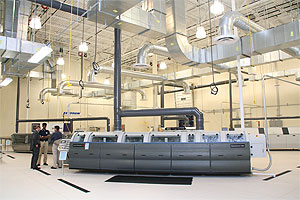 Zestron is German by heritage, but in many ways a prime example of the American Dream. Dr. Oscar K. Wack, president and owner, started his first business in 1975 with a meager $5,000 in capital. Yet he credits his son Harald with building Zestron into what it is today, joking, "I was blessed with a son who was at least as ambitious as I used to be."
The father-son bond seems mutual. Harald describes his father as a visionary, adding he gave him "the spirit to solve solutions and not give up, and allowed mistakes, as long as [they] didn't make them twice."

Despite its humble roots, Zestron is aiming high. The company aims to be the global leader in cleaning materials by 2020, Harald said.

The new facility, which has been occupied since September, will go a long way toward achieving that goal. It currently employs 20 workers, or almost 17% of the company's 120 employees worldwide.

Zestron also operates in Ingolstadt, Germany, and Shanghai, making it the sole electronics cleaning materials supplier with technical centers in the three major regions: America, Europe and Asia. Each site has equipment specific to the particular region, Zestron says, and the company plans to keep each location running as part of its long-term plan.

After a ribbon-cutting and the release of blue and white balloons through the front entrance of the building, guests were brought into the facility's vast technical center (reportedly the largest worldwide), housing machines from Speedline, Stoelting and Trek.

Besides the factory, visitors saw the engineering department, where chemical engineers work with customers on a daily basis and take care of automation. Technical marketing manager Sylvain Chamousset said Zestron can solve customer technical issues with its own products within three hours, and within 24 hours when competitor's products are used.

The Manassas shipping warehouse was huge, organized and extremely clean. Chamousset explained that most of the firm's products in the U.S. are not flammable, which means there is no specific requirement for shelving in the warehouse. The company has planned for the space they will need in five years, he said. Orders can be shipped same-day through an automated system using the major overnight carriers. Products are shipped in one, five and 55-gal. containers.

With so much space on hand, Dr. Wack raised the possibility that Zestron might someday bring its car care business to the U.S. It "is certainly an option we are considering; however, we have not yet decided when this is going to happen."

Ramping production of raw materials this summer, the facility currently has four 4,000-gal. tanks, with room in storage for eight to 12 tanks in all. An automated mixing room is under construction. All ISO-certified production will be manufactured in U.S., said Chamousset, and will increase by 100%. The vented blending room does not require refrigeration, and the tanks can be stored for at least five years.

It was noted during the tour that inline cleaning is unique to the U.S. because solder paste is water-based. In 2001, Zestron performed testing on Pb-free materials, which resulted in new formulas. As a result, the company says, Pb-free is not a challenge, and all current no-clean flux residues can be removed.

Yet companies that continue to clean with straight water are finding Pb-free flux residues harder to remove than those of SnPb solders. "This can't continue," Dr. Wack stressed. "The [users] will have to move to chemistry." Ironically, Zestron suggests that companies that don't want to clean end up being its best customers.

In a press conference, Oskar Wack explained why he started the company. "It was clear in the 80s, there was a lack of products for the future. CFC was used for cleaning everywhere." The impact of Montreal Protocol – which banned CFCs in industrial nations – opened the door to alternative cleaning technologies. Dr. Wack saw a gap in the electronics industry, and created the first non-CFC liquid in Germany. Zestron was also one of the first vendors to supply the product to the U.S., according to Dr. Wack.
He stressed the importance of research and development because of the need to continually offer better products. While founded in Germany, they see the importance of situating a facility in North America. "If you do not have a presence in the U.S. market, you have no influence." Zestron's R & D program is local and is based on ISO-certification and U.S. products.
The link between R&D and the customer is indirect, Zestron explains. Once developed in the lab – and if tests are run efficiently – pending products are sent to the applications lab for additional performance testing. Zestron's analytical center features more than 18 analytical test methods that can be used to define the cleanliness of customer boards.

As Dr. Wack notes, it's one thing to make the product; it's another to use and support it (which is why he wasn't concerned when a company in China tried to copy its product).

According to Dr. Wack, Zestron has seven patents on formulas registered worldwide. When asked what he thought of current patent reform proposals, he said, "The Reform Act [of 2007] could make it harder to get a patent."

In developing products, Zestron tries out several recipes, working with different processes and with customers onsite to determine the best formula. It's noteworthy that Zestron's chemical engineers (they currently have five with master's degrees in the U.S.) are trained for an entire year before being assigned to work directly with customers on location. "It's a question of manpower," says Dr. Wack. "None of our competitors can do that," he asserts.

Outside electronics, Zestron is looking at developing its medical and metal products. Currently, 90% of its business is in electronics, but that will change. Oskar explained, "We're looking to branch out; the metal cleaning market is 10 times the market of electronics."

Zestron's current annual revenue in the world market is $25 million ($15 million to $20 million in electronics) and $5 million specifically in the U.S., and growing because of Pb-free. "People have to clean," even though they don't want to, said Dr. Wack.

The U.S. business does not contain Asian revenue. "Cleaning is such a niche category; each market takes care of themselves," Dr. Wack said. Managing director Richard Hoeckle concurred: "Cleaning is a small business at the end of the day." However, that "small" business is projected to make Zestron a $50 million-a-year company in 10 years.

The cleaning products of tomorrow may still be up in the air, but at Zestron, the sky's the limit.