Comet Group's new lab and test facility in San Jose is where the industry's creative minds solve problems together.
In October, some 130 guests attended Comet Group's San Jose ribbon-cutting ceremony to launch Lab One. The idea of Lab One came about a year prior and brings together Comet Group's three brands in one collaborative space: Comet, ebeam and Yxlon (the Y is silent).
The working lab and testing facility is available for businesses for solving problems in the areas of RF, ebeam and x-ray technologies. This is the first time Comet has brought all three technologies together.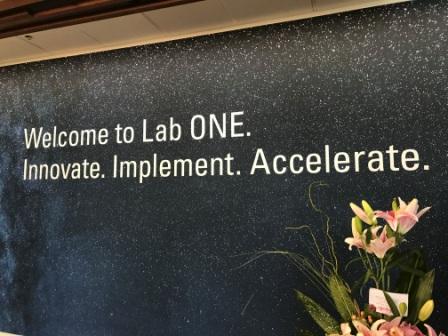 Before the ribbon cutting, Paul Smith, Comet's senior VP global product marketing, led a media tour. The idea behind Lab One, he said, was to create a customer experience to learn new technologies. As part of the Yxlon brand, at the time of its opening, Lab One had three x-ray systems, with plans to add a fourth, Smith said. The electronics, aerospace, automotive, and science inspection services industries have the opportunity to take advantage of the space with Yxlon's x-ray and CT offerings.
Lab One houses Yxlon's Y. Cheetah and Y. Cougar x-ray machines, as well as the Yxlon FF35 CT machine, which has exciting touch capabilities. Users can zoom in on images using only their fingers. Intelliguard software rotates parts and looks at all angles and geometry. The machine can scan 10,000th of an inch or smaller and magnifies on the screen 140x. Then a 3D print can be created of the magnified part.
Customers can bring samples, find defects, and measure parts at Lab One, saving money in the process, Smith said.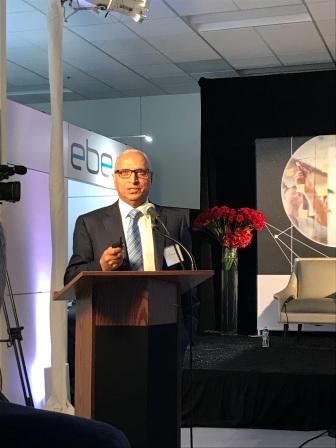 "West Coast customers can come here within a day. This is a big advantage having the location here."
An invitation to collaborate. After the ribbon-cutting ceremony, Lab One hosted a roundtable discussion featuring leaders from industry consortia and top manufacturers.
In a keynote presentation, Ajit Manocha, president and CEO of SEMI, called the trade group and Comet a "really good fit" because of their similar philosophies of innovation and collaboration. Both entities share semiconductors as a driving technology.
He commented on the importance of semiconductors for the automotive industry. "The number of chips in a car now is 10,000. In 10 years, there will be 40,000 to 50,000 chips in a car." The automotive industry has to "depend on semiconductors going forward.
"Creativity and productivity are at their peak," he said. "This year is a new peak for semiconductors, with double-digit growth in semis coming back for years to come. Semi revenue in 2025 may exceed $600 billion. We spend almost double digits on R&D – 15 to 20%."
"Big companies can spend money. Small companies are under the gun to make money," he added. "That's where Lab One comes in. Small companies don't have to spend as much on R&D. Lab One can help startups solve problems.
"The electronics supply chain is $2 trillion today. It will probably more than double in the next 10 years. China is going through a massive growth period.
"If we don't collaborate, we won't have a common set of standards," Manocha said.
And with new technologies will come new leaders. The challenge is to attract more people to the field.
"The current generation doesn't want to go into STEM education. We need to inspire everyone, starting with high school students. We need to create a hunger."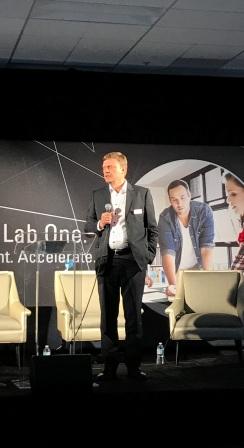 René Lenggenhager, Comet Group CEO, at the Lab One opening.
Manocha then joined Craig Arcuri (industry consultant and former Rocket EMS CEO), Bill Bader (CEO of iNEMI), and Dongkai Shangguan (vice president – technology, design and engineering at Flex) for a roundtable discussion. Common areas of agreement included the complexity of the technology and the need for collaborative problem-solving.
Shangguan noted, "(X-ray technology) has to be knowledge-based. You have to understand the process you're trying to improve upon. What's the impact on reliability and quality?" From these, he says, users can focus and customize how to apply the equipment. "Use x-ray as a productive tool," he advises. "You don't have to inspect every void on every chip."
Shangguan also extolled the virtues of electron beam (ebeam), which can be used to deconstruct materials for recycling. "It's a useful tool to separate composite materials." Bader and Manocha echoed the theme of collaboration.
Bader pointed to an ongoing INEMI project on automated x-ray inspection. "How do different machines thrive and struggle?" he asked. "The opportunities in this space are significant. More than we understand at this point. The challenge is bringing together a subsection of exports to share ideas. Boil it down to a few key nuggets. Bring together 20 to 40 open-minded people." Manocha chimed in, "Knowledge is not about a specific company."
"Collaboration is an enabler for speed," added Shangguan. "[If we] build a user community, [we can] accelerate the learning process. Lab One will be very useful, especially for startups, in terms of cost and for cross-pollination and more tech solutions for the industry overall. It could lead to standards and best practices."
Summed up Arcuri: "Pretty much anything is possible. The box of Legos is right here. Let's dump it out and see what we can do. The lab is here to experiment. The speed [of Silicon Valley] is beyond frenetic. Collaboration is the only way."
Chelsey Drysdale is senior editor of PCD&F/CIRCUITS ASSEMBLY; cdrysdale@upmediagroup.com.