ROSEMONT, IL – It's hard to say whether this year's traffic was better, but the mood was improved among exhibitors and attendees alike at SMTAI last month.
The exhibits were relocated from the second floor to first of the Stephens Convention Center here, and 172 companies lined the aisles with more equipment on display than I can remember during the previous 19 years of the show. The show floor was also noticeably louder than in the past (a good thing).
A highlight of SMTAI this year was the keynote address. Many keynotes are canned, but Rune Jensen of Microsoft's explanation of the company's foray into augmented reality was worth every moment.
Jensen is general manager of HoloLens Design, the holographic computer and head-mounted display developed by Microsoft. Naturally, he is bullish on its acceptance.
Augmented reality is much larger than virtual reality, and combined the market could grow to $120 billion by 2021. "Mixed reality is poised for very, very large growth," Jensen said.
The HoloLens hardware includes an ambient light sensor, four environment understanding cameras, a depth camera, HD video camera and an x86 Windows-based PC (of course).
Applications are already in place across a range of specialties, some highly delicate. Jensen wowed attendees with a video demonstration of how industrial elevator OEM Krupp uses AR/VR to supplement its technicians performing troubleshooting in the field. This isn't a small deal: Krupp has 18,000 techs. Other AR uses include teaching surgery, as is done through a partnership with Case Western; developing cars (Ford blends 3D holograms digitally with clay models and physical production vehicles) and in commercial and industrial design, such as kitchens (Lowes). View some of his talk here.
Company Notes
Acculogic was showing inline testers for electric vehicles. The platform has been modified to accomodate inline machines. Staff also noted more integration with National Instruments (TestPlan and LabView) tools. Either company software can be the driver, calling the other's software.
The latest addition to the Aegis team is Michael Ford, who conveyed the IPC Shop Floor Communication task group (CfX) has formed an "A" team to get content together. He said there was a "fantastic reception" to a 45-page draft that details message outline, flow of messaging, and how it breaks down machine language into messages. "Companies now know the format they need to submit and also what data they can get from other machines in the factory," he added. By November, the task group expects to have demos ready, lline production trials, and the standard proved out by IPC Apex next February. Aegis developed the code and gave it to IPC for using CfX license-free.
AIM Solder, Foresite and Zestron are working on a study on the impact of small solder balls and reliability. They expect to have a paper ready for IPC Apex.
Like many of the major placement companies, ASM will save its new products for Productronica. Mark Ogden briefed us on the Hermes standard, which will enable M2M communication and can link to conveyors. Hermes can include barcode information and prevent some machines from doing redundant steps. The brief difference between Hermes and CfX is Hermes passes boards down-the-line with a little extra information, while CfX gets the data out of the machines to the next level.
CalCuQuote made its SMTAI debut with the ShopCQ estimating tool for EMS.
Ceyon, a Korean company, demonstrated the Reel Finder, a component reel location tool said to be capable of finding a reel within three seconds. If the user pulls the wrong real, the accompanying LED turns red. (A correct reel shows green.) It comes with 315 slots, and custom sizes for bigger reels. It works by measuring the size of tape, then deducts as tape gets smaller. It automatically underestimates components remaining by 5% to avoid running short.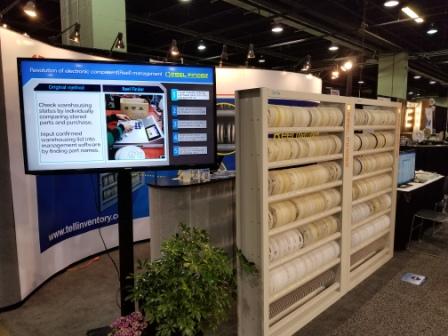 Cogisan is working diligently on Industry 4.0. Fiscal first-half sales were up 25%, and it has added 25% more staff, for a total headcount of 40, and expects to add 10 more in next year. RFID is hot again because if people want to get all of the data it is not easy to get it from "dumb" carts. "We want to be able to track everything in the factory in real time," said Francios Monette.
New to SMTAI was CSP, a manufacturer of packaging for pharmaceuticals, health care and food. They think they can customize a solution for electronic components.
Dimation EMS reports its lawsuit over the rights to certain BGA processes has been settled and they are busy with new customers.
Global Production Devices is adding tilt and rotate functions to the Simplecoat conformal coater. The new features should be available by IPC Apex 2018.
Hereaus was happy to talk about (and show, via a slick demo), its new lab in West Conshohocken, PA. (Longtime readers may recall CIRCUITS ASSEMBLY's profile of the lab and production site years ago; that site was taken offline, with paste production relaunched in 2014.) The new site features a DEK printer, Parmi Sigma X SPI, ASM E placement machine and Rehm oven. Workers perform applications engineering, support and distribution of existing and legacy materials.
IPG Photonics is the $1 billion company you've never heard of. Its so-called "fiber laser" involves an LED integrated into fiber. The high power laser can cut ceramics and can be used for drilling vias or taking off conformal coating. It presented a paper on the topic at SMTAI with Raytheon. It is said to be much more efficient than excimer lasers (40% vs. 2-3%).
Keyence showed its new 3D interference measurement sensor (WI-5000). The high accuracy device can be used offline and online.
Kyzen has updated the dashboard of its Analyst bath real-time concentration monitor to allow users to tell at a glance if a solution is out of spec.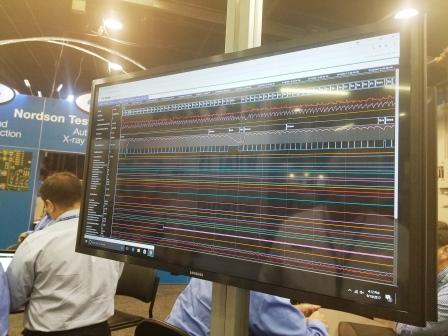 MicroCare is performing "a lot of customization" for customers based on end-product requirements. The cleaning products maker has a new plant in Brussels and plans for another in Singapore. It has hired nine new employees in sales, manufacturing and administration in the past six months. A collaborative project with solder suppliers to develop research and literature for cleaning their top-selling pastes is underway.
Making its debut was Nano Stencil, showing a pH neutral stencil cleaner, which reportedly does not affect the nanocoating on a fine-pitch stencil. Founder Bill Schreiber is the former owner of Smart Sonic, which he sold last summer. (See a video of the cleaner in action here.)
Nihon Superior had its latest addition to its SN100 family. The new solder is SN100CV, which contains 1.5% bismuth and a small amount of germanium.
Nordson Select is the new name of the former ACE Production Technologies, which Nordson bought and merged with InterSelect (of Germany). Distributors are the same in the US, with some changes in Europe and Asia. ACE Production Technologies' lead tinning service is now CTS (Component Tinning Services), and is run by former ACE owner Al Cable. The systems are no longer branded as KISS; now they are called Cerno.
Qualitek / Delta has a new solder called Ecolloy. The SnCuBiGe alloy is said to be a drop-in for SAC 305. Available in paste, bar and wire, it has a higher tensile strength than SAC (63 versus 49), and a lower melting point (220°C) and better wettability than low-Ag competitors.
Takaya had its APT 1400/1400F-SL flying probe tester.
Topline continues to leverage NASA technology, this time with the Particle Impact Damper, a mechanical component that surface-mounts on the PCB to reduce random vibration in harsh environments.
Safari EMS now has five SMT lines and 180 staff. It's been busy, too, with three shifts running 24/7.
Saki wants to establish itself as best-in-class for SPI, AOI and AXI. Its new product platforms coming at Productronica will also feature new aesthetics. The software for all platforms is the same algorithm with a different application. Improvements include new software for faster speed and improved camera lenses.
Viscom showed its new user-friendly vision software on its AXI.
Yamaha didn't release new products during the week (Productronica will be another story), but noted part lead times are "killing" products.
Mike Buetow is editor in chief of CIRCUITS ASSEMBLY; mbuetow@upmediagroup.com.