A rising tide lifted most – but not all – ships.
The electronics manufacturing industry will remember 2010 for many reasons: rampant component shortages (and the rise of counterfeits), the tight financial markets and tense end-market conditions.

But mostly, it will remember 2010 for the long-awaited recovery.

EMS shook off the doldrums of 2008-09, demonstrating tremendous resilience and yes, patience, as demand easily outstripped supply throughout the calendar year.
It also showed it remembered the lessons from 1999 to 2001, where unprecedented OEM demand led to acquisition sprees and six-month order lead times. It took two years for that hangover to end.

Not this time.

Expansion occurred, of course, but it was targeted. Even Foxconn, which announced or opened several sites in China during 2010, didn't bring on capacity so much as it relocated it inland from the Shenzhen area, where inflation and negative attention coupled with a parade of worker deaths made the "Walled City" environs even more uncomfortable than usual. Most followed the lead of companies like Zollner, which expanded two plants in China, but left the rest of its footprint as is.
Acquisition activity was also held in relative check. The big deal of the year was Sanmina-SCI's purchase of Breconridge (No. 48 in last year's revised Top 50). Smaller deals abounded, but were generally on the order of the MC Assembly's pickup of Chase Corp.'s EMS operations or ElectronicNetwork's snatching of Görmiller from bankruptcy, tidy deals that were quickly accretive and added 10 to 15% in revenue to the balance sheet but didn't do much insofar as moving the needle on the CIRCUITS ASSEMBLY Top 50 chart.

Falling off the Circuits Assembly Top 50 this year was Hitachi Computer Products, as expected, as the Oklahoma site ceased taking outside orders to concentrate on its parent company's production needs. Jumping in were a handful of firms that were unintentionally omitted in 2010. They include Japan's UMC Electronics and Hong Kong's PC Partner, Topscom and Fittec.

Currency fluctuations did not have a profound effect on this year's results, as most of the major currencies were fairly stable with last year, trading in a band of 3 to 5 percentage points. The exception was the Japanese yen, which had fallen 9.5 points against the dollar from Feb. 1, 2010 to Feb. 1, 2011, the date used for the conversions (Table 1).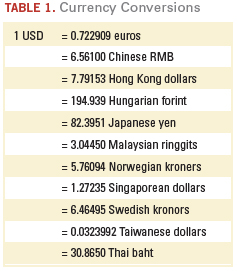 While the big clearly got bigger, the middle class acquitted itself nicely (Table 2). No. 30 Eolane finished 2010 with 268 million euros in revenue, up 72% from 156 million euros last year. No. 19 Fabrinet (the early leader for 2011's CIRCUITS ASSEMBLY EMS Company of the Year) shot up 72% as well on demand for optical networks. No. 38 Neways was up 27%. In North America, military/industrial suppliers On Core and Victron each grew around 20%.
[Ed.: To enlarge the table, right-click on it, then click View Image, then left-click on the table.)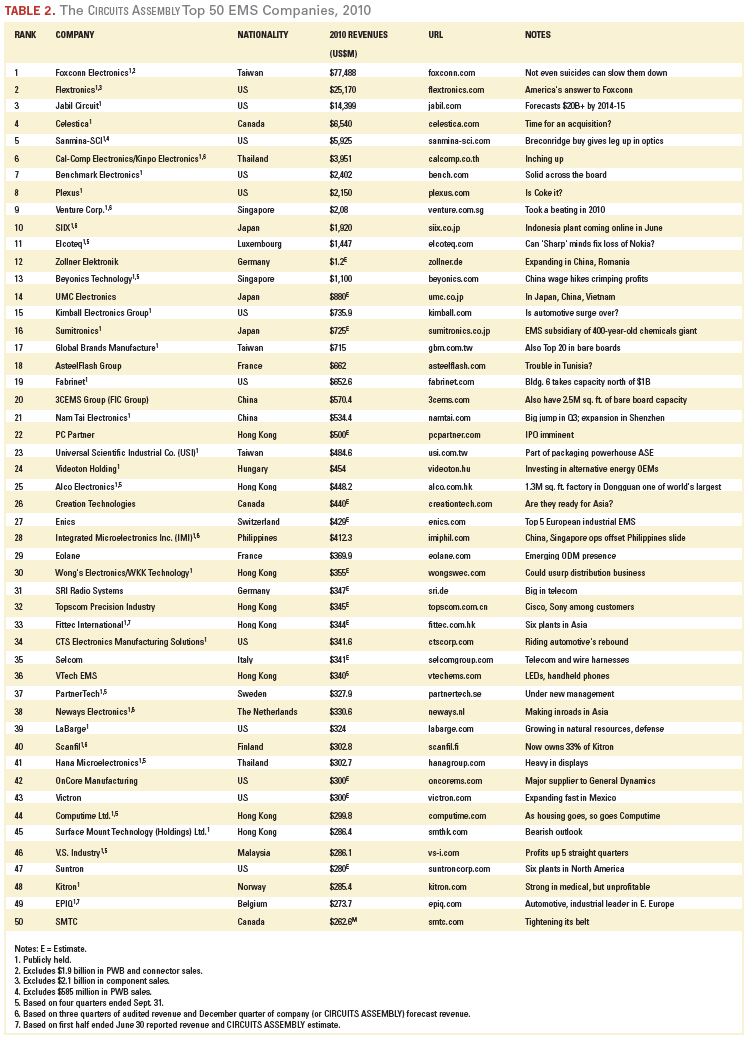 There was little change among the top 10 companies from 2009. Foxconn remains the clear-cut leader, well ahead of No. 2 Flextronics, which lost ground despite growing its EMS sales by $3.5 billion last year. No. 3 Jabil (up 23%) extended its lead over the rest of the pack, and management has plans to top $20 billion within four years. No. 5 Sanmina's aforementioned acquisition of Breconridge helped it close the gap with No. 4 Celestica. Benchmark rose two spots to seventh and No. 10 Siix leveraged a huge year (up more than 35%) to displace Elcoteq, last year's No. 7, from the Top 10. Venture, last year's No. 8, slipped one spot.

The 2009 recession lowered the bar for entry into the Top 50. The cutoff for last year's revised list was almost $200 million. 2010 changed that. For this year's list, the cutoff was about $263 million, leaving worthy companies such as KeyTronic EMS out of the chart.

Still, the rising tide did not lift all regions, let alone all ships. While North American and Asia generally rebounded, the EMS industry in Europe continued to list. Kitron, Scandinavia's third-largest EMS after Elcoteq (which is based in Luxembourg in name only) and PartnerTech, suffered through component shortages, plant closures and management changes. After eight straight quarters of losses, No. 11 Elcoteq turned profitable in the first quarter of 2010, and in the June period broke a streak of six consecutive quarters of falling revenue. Still, the third quarter saw lower sales and more losses, leaving the company-estimated sales down 30% for the year; the firm dropped out of the Top 10. On the other side of Eurasia, Hong Kong's Alco's revenue slid 33% from last year, and its ranking fell likewise (to No. 24 from No. 16).

By country, the US remains the home to the largest share of the biggest players (Table 3), with 12 entries, one less than in 2009. Hong Kong rose by two, to seven, the result of two omissions from last year's Top 50. Canada lost an entry to an acquisition. The UK, once home to powers like MSL, was left without a single entry.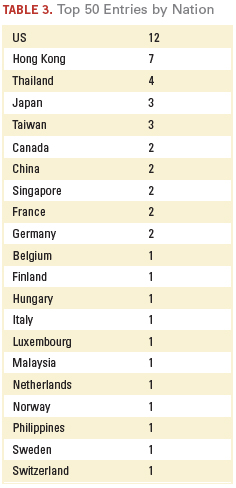 Of course, for many companies, the "home nation" is more a formality than a reality. For Foxconn, Flextronics, Beyonics, GBM, and several others, China is their largest footprint. Fabrinet is headquartered in San Francisco, but the vast majority of its factories are in Thailand. Given the violent uproars in the Middle East and much of Africa, it is safe to say there won't be any new EMS facilities in those regions soon. As such, Table 3 will likely be very similar next year as well.

CIRCUITS ASSEMBLY is not the only entity that tracks the top EMS players. So why does our list occasionally disagree with those of other industry watchers? One reason is that we make our best effort to count only the revenues derived from EMS sales. Thus, companies like Foxconn, Flextronics, Hana Microelectronics, OSE, Sumitronics and Sanmina-SCI appear tens of millions and sometimes billions of dollars smaller than they truly are. Our belief is this gives a truer picture of the actual EMS sales, as opposed to revenue from connectors, bare boards, sensors or other unrelated components.

A few words about Foxconn. Although it is undisputedly the world's largest ODM/EMS player, Foxconn is almost inscrutable. Most industry watchers know it is a major supplier to Dell, H-P, Sony and, of course, Apple, but plenty of smaller OEMs use its services too. Besides EMS, it is one of the world's largest bare board fabricators – sales reportedly are somewhere between $700 million and $1 billion – and is among the top 10 in connectors too.1 It is quickly becoming a major supplier of LCD screens (which suggests Apple TV is not far off), and is headed toward a top 3 position in branded motherboards. Some rumors about the company are occasionally so off-the-charts outlandish, such as one making the rounds last fall suggesting Foxconn would invest $10 billion (not a typo) in a plant in Chengdu, China, that it's a wonder how they get published.

But there's the rub. Though public, Foxconn is traded on the Taiwan Stock Exchange, whose standards are relaxed relative to other major exchanges, and accordingly, the company-reported data are incredibly vague. What would seem its primary website, foxconn.com, hasn't been updated in months. Its subsidiaries, such as cellphone ODM unit Foxconn International Holdings, sometimes have related names, but other times they don't (witness Q-Run and Hongfujin Precision Industry Co.). And its subsidiaries have subsidiaries: Hongfujin reportedly is China's largest exporter and has at least 60 other companies under it, which combine for roughly $30 billion in revenue.2 It has begun to open retail stores in China under the name Cybermart; it's unclear how much revenue the 35 or so sites have generated thus far, but given Foxconn's size, it's unlikely to be material. Is Foxconn as large as the figures claim? It says here, no. But very few people can know for sure.

References

1. Ron Bishop, "The Top 10 Connector Companies," ConnectorSupplier.com, August 2010.
2. Ling Ruiming, "Foxconn Faces Tough Competition from Rivals," China Daily, Nov. 30, 2009.

Mike Buetow is editor in chief of Circuits Assembly; mbuetow@upmediagroup.com.
Ed.: Due to a currency translation error, Team Precision is incorrectly listed in the Top 50. Team Precision's actual calendar 2010 revenue was about $71.3 million. SMTC, at $262.6 million, should have been ranked 50th. Also, due to a spreadsheet miscalculation, VTech EMS' revenue was initially incorrectly calculated. We regret the errors.