Even with autonomous vehicles in its sights, Kimball Electronics is on anything but cruise control.
Once they made music. Now they hear it.

Kimball Electronics is one of the world's leading suppliers of automotive electronics, with calendar year 2015 revenues topping $300 million. Not only has the company turned in 20 straight profitable quarters, but its income is accelerating.

It wasn't always that way.

Like so many of its EMS cousins, the 55-year history of Kimball Electronics starts with a keyboard. In this case, however, that keyboard wasn't for a computer. Rather, it was part of the electronic organ Kimball built for its then parent company, Jasper Corp.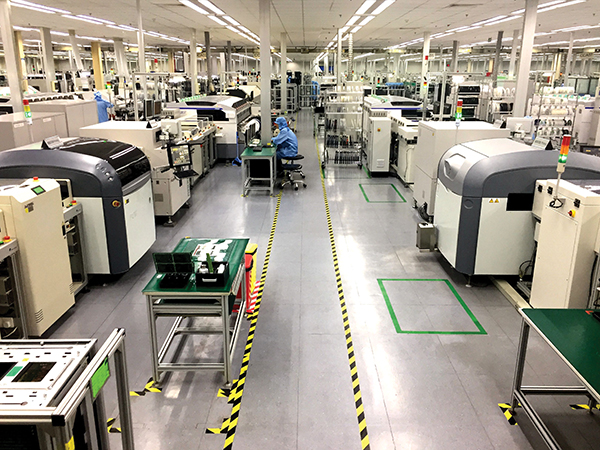 Figure 1. The manufacturing floor in the Nanjing plant, which opened in 2006.

Historically a cabinet and furniture maker, Jasper had bought Kimball, once the world's largest piano manufacturer, in 1959. Seeing Kimball as the bigger brand, Jasper took the former's name not long before going public in 1976.

During that time Kimball was branching into other sectors. Its first contract assembly program was with General Electric. Others soon followed, and by the late 1980s the business unit now known as Kimball Electronics was dedicated to EMS work.
Despite its roots in musical instruments, automotive became Kimball Electronics' focus, starting with anti-lock braking systems in the mid-1980s. The company invested in labs where it conducted HALT/HASS and other high-end testing. And it established the traceability and zero defect programs popular with automakers.

The reliance on transportation went too far. At one point in the 2000s, automotive made up 82% of the firm's sales. TRW was a major customer at the time, contributing more than 35% of its revenue. A new strategy was put in place, whereby technologies for medical, industrial and, later, public safety products were equally emphasized.
Table 1. Kimball Electronics' Financials, 2008-16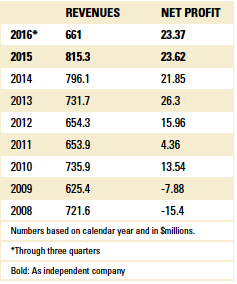 As auto-related markets picked up again in 2010-11, Kimball began kicking the tires on expansion in those markets. As it renewed its interest in automotive, Kimball focused on technologies targeting the advanced driver assistance systems (ADAS) vehicle, such as electric steering and braking. Today, it serves automotive in seven of its nine facilities. Automotive now makes up about 40% of the company's sales.

Inherent in the strategy is a common set of engineering skills and capabilities in all regions, explains Chris Thyen, vice president of global business development and engineering services. Being able to build product at multiple sites in multiple regions is a hedge against supply chain disruptions. "Our customers don't want the risk of inventory on the 'water,' " he says.

The company currently operates in six countries across three regions: the US (where it has four plants), Mexico, Thailand, Poland, Romania and China. Its largest factory is in Mexico, where more than 1,500 workers staff a 227,000 sq. ft. plant.

Regional supply is central to the company's model. "We want to be close to our customers and their markets," Thyen notes.

Kimball operates a unified SAP enterprise software system across the globe, which helps it identify and implement changes quickly in order to accumulate cost-downs.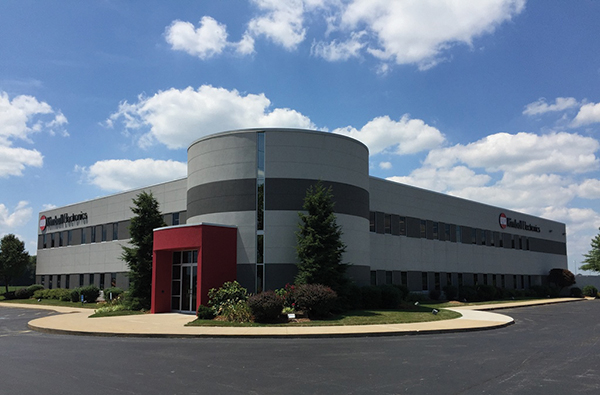 Figure 2. Kimball's headquarters in Jasper, IN.

The ability to react quickly is key. "A good portion of the bill of materials is directed by the customer. The total cost is viral, unless technology and certification determine the (production) location. I think for the next several years, geography will be very important because of the lack of visibility. Our customers really want local supply. We really manage well in our respective facilities."

But unlike competitors that tout supply chain over technology, it is the latter that will steer Kimball into the future, Thyen believes.

He points to the autonomous vehicle as an example, asserting the security behind the platform will play a major role in its success. "The industry is still feeling out the cybersecurity side," he says. "There are changes in steering and braking to protect security. We are advancing technologies to support it."

"A lot of things in the ADAS vehicle need to be worked out. The (user) desire is 'safe and secure,' not necessarily the car driving itself. But, are there other ways to leverage the investment in the vehicle instead of it just sitting in the parking lot?"

One risk is consolidation and changes within the automotive supply chain. Kimball hasn't been immune. Once responsible for more than a third of its revenues, TRW is down to 11%. In 2012 Johnson Controls cited Kimball with a key supplier award. But in the past two years, Johnson's orders have dropped 12 percentage points to 1% of Kimball's sales.

But what Kimball doesn't foresee is moving beyond its Tier 2 status into commodity, platform type of production.

"Many customers have platform ideas," Thyen says. "Our focus is on the long-term relationship. For Kimball, it's a four-to-five year kind of discussion. Our strategy is to sit side-by-side at the table with customers [discussing] product design and perfect performance through the facility. We talk logistics and total cost of ownership. We want to stay a day or two. We leave our titles outside the door and focus on what we are all trying to accomplish."

Kimball is best when the focus is on engineering, he adds. To build an ADAS vehicle, the various systems must be optimized and integrated. Questions arise such as, Will there be one control unit or multiple units? "When you talk about security systems (for vehicles) and how they work, some of those systems should be standalone," adds Thyen.

"We don't want to go to the platform type of model. We won't go that route."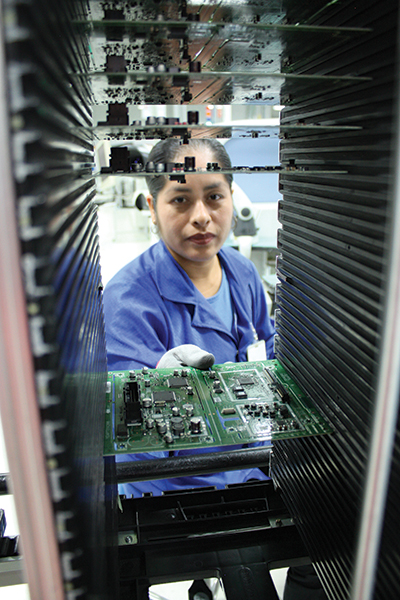 Figure 3. A worker loads a rack in Reynosa, Mexico, the firm's largest site.

Making the Turn

Besides changes to its target markets, Kimball has seen changes behind the scenes as well. On Oct. 31, 2014, the electronics group was spun off from parent company Kimball International and became a publicly traded company. Two years following the spinoff, the electronics unit hasn't slowed. Indeed, it is gaining momentum as medical sales surge in tandem with its other sectors.

The convergence resulted in a record quarter in September, as well as an impressive topline revenue goal. "Continued strength in the automotive market combined with double-digit growth in our medical end-market vertical helped us set a new quarterly sales record," noted chairman and chief executive officer Don Charron in a company press release. "Our new program launch activity remains high, as we continue to work diligently to achieve our goal of $1 billion in annual sales by fiscal year 2018."

Annual revenues of $1 billion would have seemed an audacious goal just a few years ago, and would represent a more-than-50% jump over six years' time. But the company today sees it as a realistic figure, achievable without acquisitions.

Subtle connections between the automotive, public safety and medical markets explain Kimball's engagement in those sectors. Medical growth is tied to mobile devices, where the smartphone plays a critical role in connectivity. That plays right into Kimball's sweet spot. "Smartphones and related devices have complex sensors. Automotive also has a lot of sensors too," says Thyen.

Kimball builds medical products in all its facilities, except its newest greenfield, Romania, which came online last year. Regional differences are emerging, centered on regulation. As such, EMS firms need to engage with customers in these markets in all regions.

In public safety, the third of Kimball's three-legged market stool, the focus is on durable appliances, with a high cost of failure where component-level and traceability are important. Products include systems for threat detection and avoidance, and secure communications, among others.

Another area is smart metering for gas and water. Another technology that is sensor-heavy, programmable metering, is catching on in Europe and elsewhere.

A common thread in its customer base is transparency. "We will walk away from a customer that doesn't see a need for us to make a profit in the eyes of the investment community," Thyen says. "It's transactional."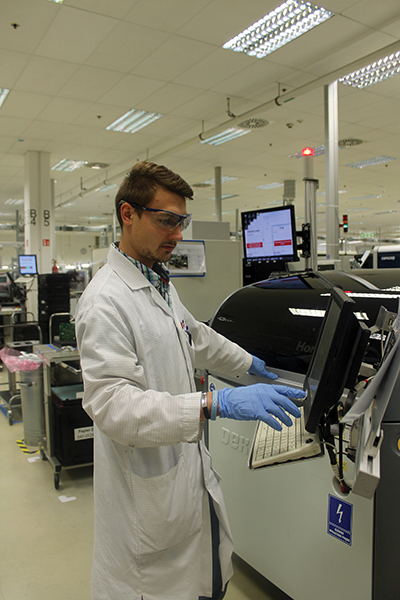 Figure 4. Setting up the printer in Poznan, Poland, one of two Kimball plants in Eastern Europe.

Organic Growth

Kimball was late to catch the acquisition bug, and never went for it full bore. Expansion has been as much via greenfield as through mergers. In 2006, the company acquired a pair of operations abroad: one in Wales and another in Longford, Ireland. In February 2007, it made its largest deal, acquiring Reptron Electronics and its four manufacturing operations located in Tampa, FL; Fremont, CA; Hibbing, MN; and Gaylord, MI. It promptly closed the latter two plants. That same year, it began production in a new manufacturing facility built in Nanjing, China. In 2008, it consolidated its EMS facilities located in Ireland and Wales with its automotive electronics operations in Poznan, Poland, where it moved into a larger site and expanded into medical products.

The Reptron deal could have changed the trajectory of the company. In the fiscal year before the deal, Kimball's revenues were $497 million. In the fiscal year after, its revenue spiked to $727 million. Perhaps the shock of the US recession in 2007-08 forced belt-tightening. Of the four Reptron manufacturing operations that were part of the $51 million deal (which added $140 in revenue), only the plant in Tampa (the former K-Byte) remains intact.
Whatever the reason, financial restraint won out, and Kimball has generally taken a more organic approach since. Acquisitions have centered on smaller, targeted companies, as with this year's buys of Aircom Manufacturing, a provider of metal fabrication, plastic injection molding and assembly, and Medivative Technologies, a medical supplier.

For all its success, Kimball doesn't expect the road ahead to be paved in gold. As CEO Charron said after the company announced its record quarter, "We continue to experience pressure on our margins, and we still have work to do to achieve our goal of 12.5% ROIC. Margin expansion and capital efficiency will continue to be priorities. This will be a pivotal year for us."

Automotive electronics is a long way from its organ-making origins, but it's clear Kimball is pushing the right keys. Its performance has been like that of any good car: dependable and durable. It's not the splashiest entrant in the race; nevertheless it has been on a winning run. For its rigorous pursuit of the right technologies for the right markets, its drive for operational excellence, and its consistent financial performance through multiple decades and leadership changes, Kimball Electronics is the CIRCUITS ASSEMBLY 2016 EMS Company of the Year.
Mike Buetow is editor in chief of PCD&F/CIRCUITS ASSEMBLY; mbuetow@upmediagroup.com.