Changing markets and changing times have brought new management and new vision to the Tier III EMS.
In the hypercompetitive EMS space, how does a company grow its revenue? And how does it do so while maintaining its attention to detail?
These were among the questions that kept Rod Howell up at night over the past few years.

Howell, who founded Libra Industries with his father in 1980, had seen the day to day pull of the operation dragging him away from the entrepreneurial bent on which he had built the company. So he did what any rational business owner would do: He turned it over to someone else.

But that's jumping ahead.

Libra means "partnership," an apt name for a supply chain company. And throughout its nearly 35 years, Libra has been a consistent partner, just not always in electronics.

In fact, Libra's genesis was in machining. The original shop built industrial diamond-cutting tools. During the recession years in the mid 1980s, Howell toured an Allen-Bradley SMT plant and, he says, the proverbial light bulb turned on. Knowing "zero" about electronics Howell hit the books, getting his electronics education through a Time-Life series. "I read the whole series. It's so funny when you think what was available to us then."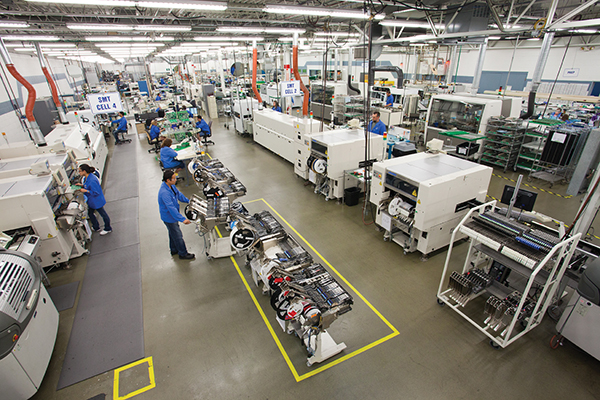 FULL TURNKEY Four SMT lines take up much of the 40,000 sq. ft. Plant 1's ground floor.

Today, the Tier III EMS firm has 45 active electronics customers, the top 20 of which make up 85% of the company's sales. Medical is 35 to 40% of revenue, followed by industrial (35%), military/aerospace (30%), and instrumentation. The company is registered or certified FDA, UL, CSA, ITAR and ISO 13485, with AS 9100C pending.
Libra concentrates on low-to-medium volume orders, with runs ranging from 100 to 200,000 pieces and the average production run 100 to 500 pieces. With the exception of a few NPI orders, all orders are for turnkey production, with 20 to 25% of its current programs box-build.

The firm takes a conservative approach to its partnerships. The average customer been with Libra for 10 years, and some as long as 25 years. "We try to get 'five deep' within an organization so we have a sustainable relationship: engineering, purchasing, management, quality and finance," Howell says. "We look into potential customers' finances and let them look at ours. We encourage the [respective] CFOs to visit in hopes of a long-term relationship."

Given the cash constraints of EMS, Libra has avoided the automotive sector because of its long receivables cycle. Likewise, doing business with startups, though not off limits, is rare. The days sales outstanding is consistently under 45.

Considering an opportunity, Howell says, isn't tied to specific metrics so much as what seems the right fit. "We look at the industry, then we look for quality of account. Then we look at the project: Does it makes sense? Is there opportunity for growth and longevity?"

Adds Gerry Waldron, Libra's recently promoted director of product realization, "We want to give clients complete design flexibility." As an example, he points to a dedicated cell where Libra takes a major OEM's products built by third parties, dissembles and conformal coats them, followed by retests and factory seals, and then sells them to customers.

The company operates in two plants in Mentor, OH, a suburb of Cleveland. The main site is a traditional two-story EMS plant, filled with SMT lines on the ground floor, while the corporate offices are situated above.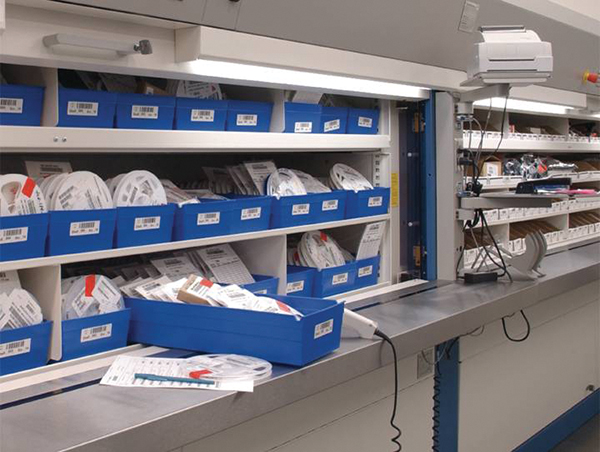 WHAT'S IN STORE Libra credits its Hanel inventory storage system for its parts management acumen.

Inside, the four SMT lines include DEK Horizon 03iX printers, Juki KE-2050, KE-2060 and KE-2080 placement machines, Vitronics-Soltec XPM2 and XPM3 reflow ovens, Electrovert wave soldering (for Pb-free product) and a Vitronics-Soltec 6749 selective soldering machine. Inspection is performed on MVP Supra AOI, CR Technology RTI 7500, and Nicolet x-ray.

Libra cleans about 80% of the boards its assembles, primarily using a Stoelting Trek aqueous system, and ionic contamination is checked on a Aqueous Technologies Zero Ion. In-circuit testing is performed on two HP 3070 ICTs. Libra designs and builds functional test equipment for its customers, and tests close to 90% of all boards. To one side of the floor is a specialty coating room for UV cure and acrylic conformal coating using an Asymtek line.

Just a block away sits the company's new NPI Center, a 30,000 sq. ft. entity expandable to 100,000 sq. ft. Designed with the same blueprint as the main plant, the NPI center is also home to the company's box-build operations. It sports ESD flooring, a DEK printer, two Juki placement lines, a Vitronics Soltec XPM2 reflow oven, Triton cleaner and Trek SIR. Boards are built in Plant 1, while higher-level assembly takes place in Plant 2. Employees are typically dedicated to a single plant, but cross-trained to leverage manpower.

About half the boards it builds are lead-free, and some designs call for 0201 components, although Libra has not yet placed 01005s. The company also currently builds two-high package-on-package designs. Libra budgets about $800,000 a year for capital expenditures.

For the past two years Libra has operated in two 10-hour shifts four days a week. The migration from a five-day workweek has been met with mixed feelings, Howell admits, saying "some love it, some hate it." Quality has improved during that span, he adds, but they cannot attribute the uptick to the change in scheduling. First-pass yield is better than 98%, and "5S" trophy is awarded periodically to the top-performing cell team.

Quality is aided by an organization-wide bar code process under which all parts are logged and scanned. Doing so also helped reduce inventory: average turns are six per year, up from two to four. The component storage room features 10 Hanel Rotomat vertical carousels. Each system is linked and tied to the company ERP. Some vendors come in weekly to manage inventory, although an Arrow in-plant store was eliminated last year.

"Everyone focuses on labor and they don't spend in materials management," Howell observes. "But if you don't win on materials, you don't win."
Hitting the wall. Winning means growing. Libra averages 10 to 15 new customers per year, but revenues jumps are more difficult to sustain. "It's the biggest challenge in growing a business; you go a certain stretch and hit a wall. Then you have to rebuild the management team," Howell says.

Libra hit that wall last year. In response, Howell brought in Jennifer Altstadt. Altstadt had been president of Weatherchem, a family-owned maker of plastic dispensing enclosures for nine years, and prior to that spent 15 years at Nordson. While at Weatherchem she spearheaded the sale of the company following the death of its owner.

"My plate was full," says Howell. "I couldn't think outside the box. Since adding [Altstadt], my creativity has come back. I'd been closed off to new opportunities. Now we're very open to building strategic relationships with other businesses, including EMS companies."

Altstadt has extensive experience in operations and a track record of business building: On her watch, Weatherchem doubled its business and expanded into new – and "not obvious" – markets.

Altstadt says her focus is the organic growth of the company. Was she also brought in to help sell Libra? Howell says anything could happen. "My succession plan is to keep Libra and continue to run it, or sell it. We are building the company so we have those options.

"We could easily double the size of the business in the next two to three years," he adds.

How will Libra do so? Through acquisitions, for starters. The company on Aug. 1 acquired Tetrad Electronics and Focus Manufacturing, both located in nearby Willoughby, OH. Tetrad is a traditional EMS company, but unlike Libra it operates outside of the highly regulated medical and aerospace sectors. It's an area that was attractive yet never a strong suit for Libra, Howell acknowledges, noting the respective firms' roughly 5% overlap in customers.

"We asked, 'How do we go after that business and be competitive?' That drove this acquisition. We have never been able to successfully participate in that space. The best way was to acquire a company that's strong in that space."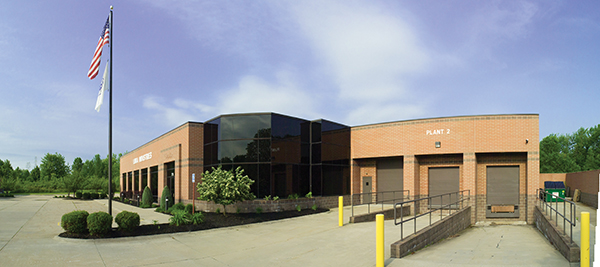 DEDICATED NPI Libra opened its second plant, a near replica of its first, in 2013.
Focus brings Libra full circle. It specializes in metal fabrication, a return to Libra's early roots. The two companies combined add about 55 employees, bringing Libra's total head count to nearly 200.

One area Libra excels in is employee relationships. Turnover since 2006 is a miniscule 2%. The average employee tenure is seven years. All potential hires undergo multiple interviews with multiple current staff, plus testing programs and personality profiling.

Interestingly, most new employees come from outside the electronics industry. Libra recruits locally and relies on IPC and SMTA training
programs to fill in knowledge gaps. Says Howell, "We teach the engineers about the technology. Most out of college have the aptitude and attitude to learn."

Libra gives back to the community via the Christopher Howell scholarship, named for Rod's late brother and former business partner. Unlike conventional academic grants, the fund is designed for high school students who have overcome adversity, with some $60,000 awarded over the past eight years.
Despite ongoing shifts in management, target markets and size, Howell is maintaining a common approach: OEMs who value heavily
engineered product and that are looking to leverage the best available manufacturing capability.

"We want customers that look at their product as the life of their company. Whenever there's a shift in technology, that's a key tipping point. If [an OEM engineer] has to ask for $1 million in new capex, that's when the shift occurs."

After three decades of shifting markets, technologies and demands, Libra has found its balance.
Mike Buetow is editor in chief of PCD&F/CIRCUITS ASSEMBLY; mbuetow@upmediagroup.com.