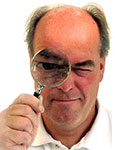 When separation occurs, check the oven settings.
This month we look at printed circuit board delamination. As FIGURE 1 shows, delamination is barely visible on the surface of the board and confined to the area around through-holes and where the solder mask is cracking.
To continue reading, please log in or register using the link in the upper right corner of the page.