The indium additive relieves stresses that drive whisker growth.
Copper components in electronic packages (e.g., lead-frames, interconnects, integrated circuit leads and press-fit connector pins, to name a few) are often electroplated with tin (Sn) to prevent tarnishing and to facilitate subsequent soldering. With passage of time during storage or service, long whiskers grow from these tin coatings, causing electrical shorts between neighboring circuitry, posing serious reliability risks.1-3 This problem is particularly problematic in long-life applications, and failures have been reported in many arenas, including aerospace, nuclear power plants, automotive electronics, and military electronics systems, causing damages worth millions of dollars.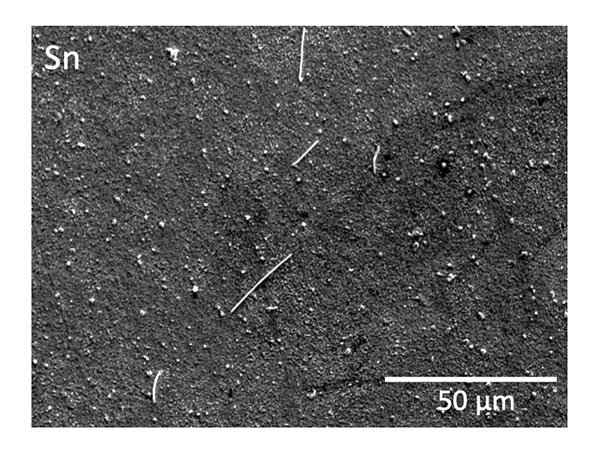 Figure 1. Surface of a copper substrate with a 3µm-thick electroplated coating, after ambient temperature aging for 1.5 months. The Sn version shows multiple whiskers.
A number of approaches to mitigate whisker growth have been pursued during the past 30 years, including additions of Pb, Bi, Au, Sb or Ge, or post-plating thermal treatments.4-8 These approaches mitigate whisker growth to varying degrees; however, none eliminates it. Over time, and under thermal-mechanical excursions, whiskers continue to grow.
To continue reading, please log in or register using the link in the upper right corner of the page.