In the wake of pandemics and travel bans, visitors still turned out for the annual exhibition.
Heading into IPC Apex Expo the first week of February, I wasn't sure what to expect. The overall market appears to be slowing somewhat. Many EMS companies have reported lower sales for the past quarter. US presidential elections often seem to dampen electronics orders, at least until November, even though a review of the overall GDP disputes any such letup. And fears of the coronavirus in China have clearly spooked the industry, as some firms have reduced or banned employee travel for the time being.
But once the show started, many of those concerns abated. Floor traffic was up and down through the first two days, before grinding to a near halt per usual on the third and final day of the show. Exhibitors took note, reporting mixed reviews of the attendance. But when it was busy, it was really busy. It's hard to say whether the postponement of overseas shows such as Nepcon China and the International Electronic Circuits (Shanghai) Exhibition (better known as the CPCA Show) boosted attendance an ocean away in San Diego, but it probably didn't hurt. (On Mar. 2, IPC reported 4,211 visitors attended the show, down 20% from a year ago.)
The hallmarks of IPC Apex Expo, which celebrated its 20th anniversary this year (some argued that the show is actually older than that, since it's a combination of Apex, founded in 2000, and Printed Circuits Expo, which launched in 1994), include size and pageantry. The IPC Hall of Fame, keynote addresses and committee luncheons all feature a lot of color and lights and balloons and massive flashy electronic displays. Those are distinct improvements over the shows of yesteryear. And there's a clear emphasis on younger engineers, even though there aren't many of that demographic walking the halls.
On the show floor, chatter over China, the virus and the subsequent factory shutdowns was all the rage. The consensus was the situation is probably worse than has been officially disclosed, that supply-chain disruptions range from mild to severe, and that restarting the lines, especially for fabrication plants that typically run 24/7, might be more complicated than anyone has dared to say aloud.
The beneficiaries, if that's proper to say, are those companies that relocated production in the past year to Mexico, Vietnam or Taiwan. Although generally those moves were made to defeat the onerous tariffs, the timing of the coronavirus only reinforced the wisdom of the decision.
For those who attended Productronica last November, there wasn't much new at Apex Expo in the way of equipment or materials. The German trade show remains the best place outside Asia to see brand-new machines, which are then rolled out regionally, as the other shows follow. This year was no exception. Products previously reviewed in our Productronica recap last December are not covered here.
Industry 4.0 and the coming robotic revolution remain points of focus, but there is the inevitable lag between conception and implementation. We are at the point where, if one wanted, a nearly fully automated assembly plant could be realized, with software dictating component pulls and AGVs moving feeders and trays to lines just in time to maintain peak overall equipment effectiveness (OEE). But the cost and time to implement remain prohibitive, and perhaps unachievable in non-purpose-built plants.
Some of the new product highlights from this year's show:

MacDermid Alpha has a new water-soluble paste, WS-860, and an "ultra" low-temperature solder, ULTS, for PET-based flex circuits and SMT assemblies to be soldered under 150°C. The newly acquired Kester brand is not expected to be merged with Alpha, MacDermid Alpha told us.
Henkel rolled out several new materials for specific applications ranging from high thermal conductivity to high reliability. Bergquist Gap Pad TGP 10000ULM thermal interface material (TIM) has a thermal conductivity of 10.0W/m for 5G telecom infrastructure and consumer mobility devices. The latest generation of the Loctite GC series, GC 18, has been qualified and is going into use. Users are looking at it to lower voiding, especially on QFNs.
Seika Machinery showed a robotic handler that loads and unloads routers. The dual-arm Kawasaki Duaro RS series replaces inline equipment, has a safety stop and can hold panels weighing up to 3kg.
The Sakaya SAM-CT34XJ automatic high-speed router supports panels up to 400mm x 300mm. It has an automatically adjustable cutting position, and the router bit height can be automatically switched for longer tool life. It detects removal, breakage, and floating of the blade, and has an optional automatic bit changer.
Malcom Instruments has a spiral viscometer (PCU002V) for spot-checks of solder paste. It requires just a thimble full of paste from the jar to perform its viscosity readings.
Nordson Asymtek added batch operation capability to its Helios SD-960 dispenser. It comes with dual drawers, allowing continuous processing.
Component handling and storage systems were plentiful. The Juki-Essegi partnership continues to pay off with the latest MIM/EEM modules for its Material Tower. New software links with Oracle, SAP and other ERP systems to verify if a component under review is on the AVL.
Likewise, Yamaha had its YST-15 reel storage tower, which debuted in 2019. New to the show was the YRM20 placement machine, a dual-head, dual-beam system with a new high-speed rotary head capable of placing parts sized metric 0201 to 12mm sq. at speeds up to 115,000cph. The system supports multiple chipshooter heads, or a chipshooter and multifunction setup.
Hanwha is cutting line costs by doing away with the conveyors that link printers and SPI machines to placement machines. Rails from the process machines now link up seamlessly, even in a back-to-back printer configuration.

Novacentrix's photonic curing system called PulseForge uses pulses of high-intensity light to heat lead-free alloys to liquidus in milliseconds, much more quickly than forced convection. Check out their video at novacentrix.com.
Vitronics Soltec introduced 3D-Printed Twin-Nozzle for Zeva selective soldering. The patent-pending design has two nozzle diameters combined in one nozzle and makes it possible to solder a board with fine-pitch and multiple-row connectors without stopping for tooling changes.
Thermaltronics' TMT-2200S is a dual-port, single-heater solder station based on Curie Heat Technology said to adjust the power for an individual solder joint on-the-fly.
Kurtz Ersa had several new tools that were not reviewed in our Productronica coverage. In the Exos 10/26 vacuum reflow soldering system, the vacuum module is situated in the hood, and a long tunnel maintains liquidus temperature to reduce voids. The 26-zone oven features 11 heating and four cooling zones and handles board sizes of 400mm x 630mm in single-lane configuration or 400mm x 280mm in dual-lane. The roller conveyor in the vacuum chamber is the same as used in the firm's selective soldering machines and has no bearings or grease. A medium wave heater is used in place of IR to maintain the temperature profile. The vacuum pump is integrated into the machine on a separate table to prevent vibration and isolate it from the reflow process. The entry-level HR-500 rework system has a medium-wavelength dark IR emitter, for a consistent absorption reflection ratio between dark- and light-bodied components. The HR 550XL is a large board (20" x 20") version. HR 600/3P has 01005 pick-and-place capability and performs pin paste dispensing prior to placement. The Solder Smart five-axis soldering robot has a 150W heater and programmable point-to-point soldering, dwell and feed times.
MEK's PowerSpector GTAz inline AOI series now comes in three longboard models. The nine-camera systems (one top, eight side) handle PCBs from up to 800mm x 550mm, depending on the model. Side cameras now offer a larger field-of-view and 20µm resolution. The systems inspect for component presence, polarity, offset, correctness, soldering and height and can be used for 2-D inspection (pre- and post-reflow, selective or wave soldering) and first-article inspection.
Industry 4.0/smart factory was commonplace, so much so it has become part of the background. There was less this year, however, on the digital twin. One exception: Siemens, which noted virtual models need to be driven by more than IT. Siemens has integrated its Op Center MES with Valor Process CAM; the combined system can share data models such as bills of materials, screen/stencils, SMT, test and inspection. It is extending its ability to monitor the line, with newer options capable of sending pick lists to warehouses. Siemens is tying in Cybord, an Israeli startup that is attempting to prevent counterfeits and malware from entering the field by overlaying a combination of AI and vision capabilities on placement lines.
Mirtec has merged AOI and SPI on a single unit. The camera configuration doesn't change, David Bennett said; the 3-D SPI camera can be used for AOI too.
Novagard and Dow separately introduced UV silicone conformal coatings.
Speaking of conformal coating, Parmi debuted PCI 100, an AOI that uses high-speed scan for conformal coating coverage inspection, contamination/overspray detection and bubble detection. It features a 4M image sensor with telecentric lens camera and uses UV LED lighting for conformal coating inspection and white LED illumination for coating inspection area teaching. The scan speed is 80 sq. cm/sec., at a reported resolution of 16.7 x 16.7µm. Parmi also showed the Axion 3-D AOI, which has a focused two-channel laser for highly specular surfaces (bare die, IPD, die attach, underfill fillet).
Magnalytix has transformed its SIR tester from a multi-unit system with a mass of wires protruding into a beautiful, streamlined design. A steady stream of visitors from defense OEMs observed by this reporter suggested the high-rel sector has noticed.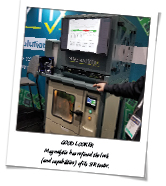 Each year, the fabrication side of the show seems less busy. Orbotech was unusually reticent. It had a new inkjet solder mask printer called Neos. But finding someone authorized to discuss it was not possible, and booth personnel didn't even allow photos to be taken.
Almost every other machine in the fab section was previously shown, in some cases years ago. Isola did have a pair of new laminates. TerraGreen 400G is a high-speed, low-loss replacement for ceramics in 5G applications. IS550H is a low-CTE, CAF-resistant version for high-power and voltage products. Isola is opening a quickturn manufacturing facility in Chandler, AZ, in the late second quarter.
AGC will have new laminates in a few weeks.
Polar Instruments added a variety of fill types, drill documentation and implemented backdrill capability to its Speedstack PCB stackup design tool.
The technical conference sessions appeared well-attended. Those who attend every conference will note some repeats or updates of previously published work. That said, most engineers lack the budget or time to get to multiple conferences a year, so I'm not certain that covering "old" ground is necessarily a negative. One timely session moderated by Greg Papandrew of Better Board Buying covered best practices for strategic board procurement. A panelist from NI explained the company's process of coupling data from an industry capability index with the specific requirements of a new design to automatically winnow the AVL list to the relevant suppliers. With all the chatter about China and supply chains, that talk couldn't have come at a better time.
Mike Buetow is editor-in-chief of PCD&F/CIRCUITS ASSEMBLY; mbuetow@upmediagroup.com.