In an otherwise tepid year for outsourcing, two sectors made the difference.
Time was, the most sought-after segments in electronics manufacturing services were the "three Cs": computers, communications and consumer electronics. No more.

Today it is all about automotive and automation. Or, perhaps, it's the two Cs, as in cars and connectivity.

Vehicles, with or without advanced driver assistance systems (ADAS), and systems that link users to users, users to machines, or machines to machines (M2M) are the end-markets the majority of the Top 50 EMS companies now pursue. Smart energy is another, although it appears to be more about the automation than the energy, as those supplying to traditional oil and gas specialists, as well as solar and related green energy markets, took a step back in 2016.

As a whole, the global electronics equipment industry stalled in 2016, falling 3.5% year-over-year, according to Henderson Ventures. Likewise, EMS was down about 3% for the year. With contentious elections in multiple regions, and the looming specter of Brexit, OEMs and especially governments were nervous about spending.

For those poised to move ahead, it all starts with auto. The fuel for the industry's comeback since the 2007-08 downturn, automotive continues to accelerate. Flex (no. 5), Jabil (7), Venture (18), UMC Electronics (24), Kimball (27), IMI (27), and others are among those along for the ride. Global car sales rose 4.8% to 88.1 million units, but that only partially represents the surge in on-board electronics systems. Consumer demand for on-board infotainment, navigation, and sensor-based safety technologies such as lane assist are driving the need for electronics. ADAS systems, cameras and inverters are all expected to see 20% compound annual growth through 2021. Japan and the EU began permitting cameras to replace mirrors in 2016, and the US and China will follow next year.

Indeed, those EMS companies that weren't in automotive got rear-ended last year, as other markets were generally tepid. Servers, the backbone of communications, fell in terms of shipments and revenues in three of four quarters and ended the year down 4%. Aircraft production slipped 2.6% in 2016, and defense spending was up about 1%.

In the consumer segment, tablet shipments were down 15.6%, all-in-one PC shipments fell 4.8%, and PC shipments declined more than 6%. TVs and monitors moved plenty of units, but pricing pressure pinched revenues, hurting companies like no. 9 TPV Technology. The smartphone market ticked up 5% to about 1.5 billion units, according to IDC, but Apple and Samsung's aggregate sales dipped slightly due to the former's struggles in China and the latter's exploding Galaxy Note 7. As such, four of the five largest handheld ODMs, including no. 1 Foxconn, no. 2 Pegatron, no. 4 Compal, and no. 7 Jabil, lost ground to competitors.

Meanwhile, worldwide spending on Internet of Things (IoT) reached $737 billion in 2016, according to IDC, and will grow at a 16% compound annual rate through 2020, reaching about $1.3 trillion. Those ODMs/EMSs supplying to wireless connectivity customers benefited, and will continue to do so as 5G networks are rolled out. No. 22 Fabrinet was a big winner here, with its sales bursting through the $1 billion plateau for the first time. Eolane is another positioned to excel in this space.

Energy wasn't universally equitable. Ducommun, last year's no. 47, saw its oil and gas operations take a big step back. Its revenue fell 23%, enough to drop it from the list. No. 10 Celestica is closing its solar panel operations. Flex's solar panel outlook got shadier when SunEdison went under, but it continues to bask in the warmth of Lucent.

The business models of the Top 50 are varied indeed. For most, traditional SMT and related assembly is just a starting point. Nippon Manufacturing Services supplies contract workers. A pair of major flex circuit makers, no. 20 Nippon Mektron and no. 23 Zhen Ding, which also perform a significant amount of assembly, leveraged their dominant position with Apple to remain high in the rankings. (We calculate their flex assembly value based on the generally accepted figure of 40% of their overall revenue.) Flex, Sanmina and GBM also make bare boards. Hong's Kong King distributes SMT equipment. Foxconn has opened retail stores, bought Sharp and is reportedly bidding for Toshiba. Katolec offers warehousing and 3PL services. Sumitronics is part of the giant Japanese conglomerate Sumitomo. No. 32 VTech Communications' parent company makes electronic learning toys for kids and handsets. No. 45 Hana Microelectronics' non-EMS activities include manufacturing of sensors, LEDs and RFID devices.

Just missing the list is Sparton, which is a complex company to tabulate. Its Manufacturing and Design Services segment, which includes traditional design, assembly, repair, and cable/wire harness work, came in at $272.9 million, too low for the Top 50. Add in the Engineered Components and Products segment, and total revenue jumps to $410.6 million. Much of that ECP value, however – $89.1 million to be exact – was for sonobuoys for the US Navy, which could be considered OEM products. That drops the total back to $321.5 million, just ahead of SVI Public Co.

Mitac Holdings very well may belong on the list. Similar to Cal-Comp, Mitac is a major holding company under which exist standalone branded product lines (Magellan and Navman GPS units, Tyan servers) and contract electronics assembly. It's no longer listed, however, and has gone quiet as to its segment revenue.

All Circuits was omitted, as its revenue amounted to $198 million. But add in BMS Circuits and TIS Circuits, with which it shares owners, and its sales jump to $351.5 million, good for 49th.
The bigger they are… What other significant developments occurred? Being big didn't necessarily mean being successful in 2016. Of the top 10 companies by revenue only three grew, and just 10 of the largest 25 finished up. For the first time in its history, Foxconn went backward. Nevertheless, the dip didn't have the slightest bearing on the standing of the world's largest ODM/EMS: Foxconn's sales were more than those of the next five companies combined. (This year, we included the sales of Foxconn-owned Innolux in the overall tabulation. As a standalone entity, the display-maker's revenue was about $2.94 billion.)

As an industry, M&A activity was brisk. Lincoln International counted 26 EMS transactions in 2016, but in reality there were probably twice that number. But there was relatively little movement among the Top 50, with smaller, targeted deals the norm. Closures following acquisitions took their toll, nowhere as much as at Scanfil, which closed four sites last year following its 2015 deal for PartnerTech. Industry-wide, the number of plant closures (11) was lower than the five-year average of 20 sites per year, however.
Key exchange. Exchange rates used were those on April 14 (TABLE 1). The dollar grew more than 5% against the euro and Chinese yuan, and 7% and 13%, respectively, against the Hungarian forint and Malaysian ringgit. The only currency against which the dollar sank was the Taiwan dollar, down 5.1%.

Table 1. Currency Conversions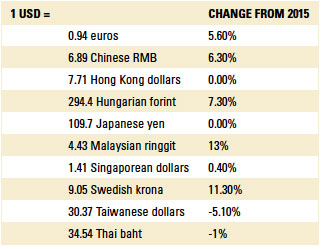 TABLE 2 lists the top 50. Revenues shown are based on calendar 2016, unless otherwise noted. Corporate growth rates were tabulated in the local currency, then converted to US dollars, in order to correct for currency swings. In like currency comparisons, more than half the Top 50 lost ground in 2016. The top gainer was Fabrinet, up 43% on capacity expansion and higher demand for its core optoelectronics products. Other big gainers were Scanfil, which absorbed PartnerTech, and V.S. Industry, in large part because of currency fluctuations. Enics' results do not include those of PKC's EMS business, which it acquired in March and will add $100 million in revenue to next year's sales.

Table 2. The Circuits Assembly Top 50 EMS Companies, 2016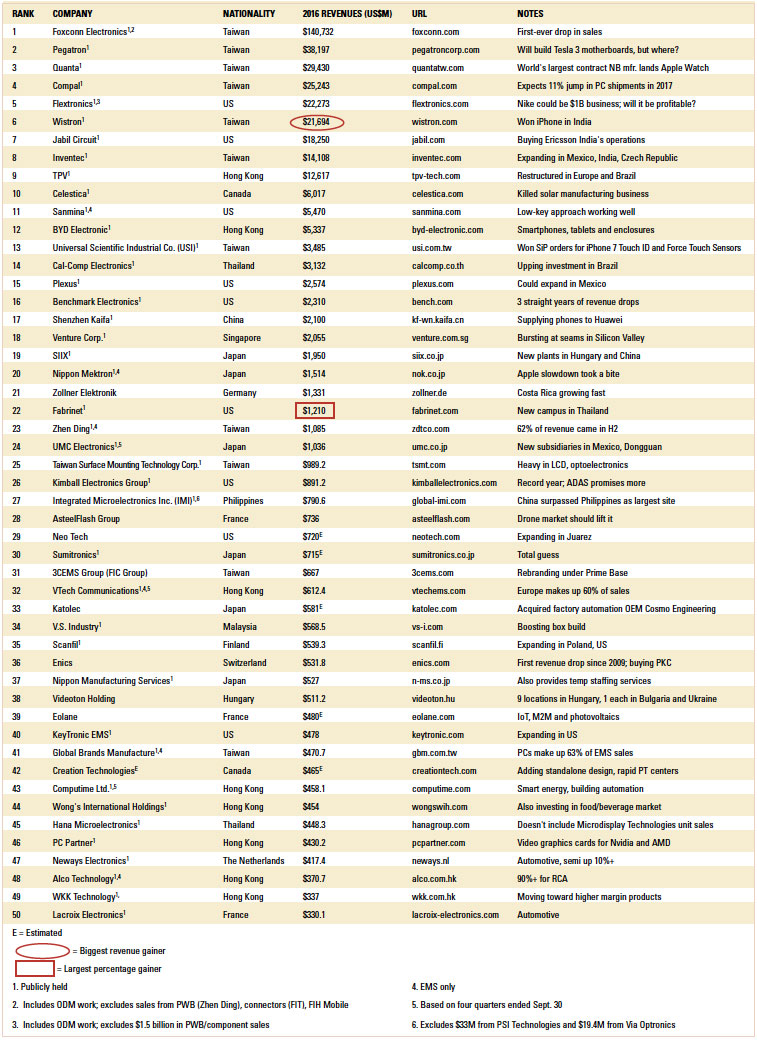 The CIRCUITS ASSEMBLY Top 50 will differ from other lists in certain ways. Foremost, we don't differentiate between EMSs and ODMs, or even ODMs and ODMs. We don't see the logic of including Foxconn, whose revenue sources include motherboards, connectors and sockets, retail stores and spectrum licenses, or Pegatron, another major electronics supplier to Apple, while excluding Quanta and Compal, which design and make notebooks and other PCs on behalf of OEMs. Also, currency fluctuations will account for some variances between lists.
Table 3. Top 50 Entrants by Nation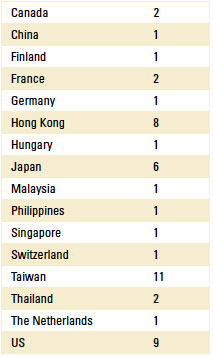 Finally, while most companies are public, many are part of much larger conglomerates that don't break out their figures. As such, the data for some companies are estimates. As always, any errors are those of the author.

What will 2017 bring? Most estimates call for improved spending on aerospace, defense and computers. Early indicators are that other sectors are up as well. Automotive might still be in the driver's seat, but it could have some company.

Mike Buetow is editor in chief of PCD&F/Circuits Assembly; mbuetow@upmediagroup.com.