Details

Written by

David Bernard, Ph.D.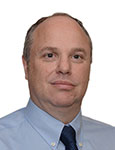 A plan for coordinating 2-D and 3-D x-ray and microsectioning strategies.

Last month I discussed use of "full CT" (FCT), or 3-D x-ray, for analyzing electronic components and boards. This provides a 3-D model of the sample from which "virtual x-ray microsections" can be taken at any plane within the sample for analysis. While this can give excellent information, it does take time for the quantity of 2-D x-ray images to be acquired from 360° around the sample, from which the 3-D model is produced. Furthermore, as electronic features are small, it usually requires a set of high magnification 2-D images to provide the analytical detail within the 3-D model. As I have mentioned, the geometric magnification provided by an x-ray system depends on being able to place the object/field of view (FOV) close to the x-ray tube. As the sample is rotated within the tube-detector axis for FCT, then the larger the sample, the further away the sample must be placed to prevent a collision with the tube during rotation. Although it is possible to create an FCT model by only taking images from 180° around and using careful sample placement to allow an FOV to be placed closer to the tube, detailed information is unavailable for the model because only half the potential data are taken. Looking at an individual component under full CT does permit its placement close to the x-ray tube for high-magnification images. Once that component is on a board, however, the available high magnification for full CT is likely to be lost. At this point, cutting the sample to reduce its size becomes the only realistic option to getting the required detail from the FCT model.
Read more ...