Written by Per Jennel
Tuesday, 29 January 2013 18:51
How one EMS company improved production time by shedding the straight line flow.
Two years ago, Orbit One decided to redesign its SMD line in Ronneby, Sweden, with the goal to decrease machines' setup time or to increase uptime and shorten lead times.

The work started in 2010 when two "straight" production lines were reconfigured into a "U" shape, under the theory that this would minimize setup time and improve production flow.

To do so, we took two of our three lines and put them together. In other words, we took four placement machines and split assembly across the four modules, setting up the placement heads to assemble at the same time but just using half the number of feeders.

This way we shortened the lead time, and by using just one of the two feeder boards in the machines, we could perform a setup while simultaneously running the machines for the present job. That positively impacted uptime.

To optimize after this redesign, we adjusted the modules to balance the assembly time, which is of course important because the module with the longest assembly time determines the output from the machine. In theory it is simple, but it does require some effort from operators and programmers to make these movements between the modules. Depending on the design and number of components, some boards are harder to optimize. Also, other potential bottlenecks in the line, such as the screen printer or oven, must be considered.

Overall, the reconfigured line has been very successful. We produce with increased efficiency compared with the previous line configuration, and it's easier to change production plans closer to the start date compared with the previous layout. Moreover, overall setup time has been decreased approximately 50%.
Per Jennel is sales and marketing manager at Orbit One (orbitone.se); This e-mail address is being protected from spambots. You need JavaScript enabled to view it .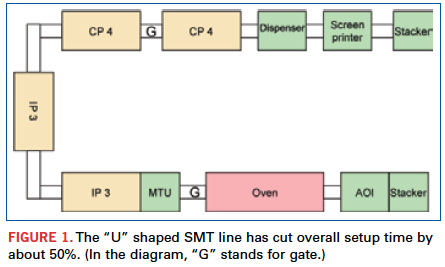 Last Updated on Monday, 01 April 2013 16:30
Columns
There's been a flurry of EMS acquisition activity of late, with Natel's acquisition of EPIC Technologies and Benchmark's pickup of Suntron and CTS among the larger deals.
Read more...
What Does New CEO for Microsoft Mean for Hardware?
In the end, Microsoft couldn't pull the trigger. In Seattle, outside just wasn't "in."
The world's largest software developer today named Satya Nadella, head of the the company's Server and Tools unit, as its new chief executive. The 46-year-old Nadella becomes just the third person to lead Microsoft, one of the most successful and wealthiest companies ever.
Read more...
Features
A Systems-Level Approach to Product Development
Is there a way to more tightly integrate materials and process development so as to accelerate the pace of innovation?
Read more...
Reducing Stencil Wipe Frequency
A new study of nanocoatings allows users to visualize solder paste flow under the stencil.
Read more...
Products
Getech Releases GLRS Laser Singulater
GLRS laser singulation system is configurable with a near IR laser (1032nm) for use with metal-core substrates or a green laser (532 nm) for use with ultra-thin and flexible substrates. Inert gas...