Written by Sandra Winkler
Thursday, 01 April 2010 00:00
  
Shipments and revenues should skyrocket in 2010, leaving the spectres of 2009 behind.

IC revenue will stage a comeback this year, growing 18.8%, with unit growth a tick lower at 18%. Both figures are considerably better than the 8.8% decline in revenue and 6.9% decline in shipments in 2009.

DRAMs are anticipated to be the largest growth area for ICs, with revenues up 40% in 2010. Numerous analog chips, including regulators and references, computer, communications, automotive, and industrial applications; special purpose logic chips, including consumer, computer, communications, and automotive; flash, EEPROM, 32-bit MCU, and standard cell and PLD chips will see revenue growth rates in excess of 15%.

Shipments should continue to climb at least through 2013, according to NVR data. Unit growth should top 100 billion over the four-year span of 2009 to 2013 (Figure 1).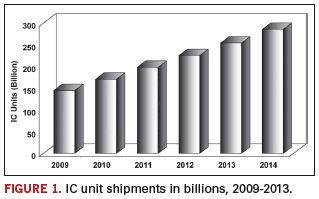 What's driving the recovery? Low interest rates, low oil prices, and the stimulus packages instituted around the world are all contributing to a stabilizing economy and upturn. Purchases were less than the replacement market in 2009, and pent-up demand is pulling the market in a positive direction.

Cellphones, particularly high-end smartphones, will see high growth rates. Smartphones are gaining in popularity and becoming a larger piece of the cellphone pie. Anything handheld and somewhat affordable that keeps us connected to the rest of the world seems to be doing well. New product introductions such as Apple's latest iPhone are hot topics; the iPad is expected to do well, and Research in Motion's Blackberry has been doing well for some time.

Netbook computers, with prices as low as $200 during holiday sales, and notebook computers are driving up IC demand. Other high growth areas include 3-D and digital TVs, DSL/cable modems, flash drives, memory cards, set-top boxes, digital cameras, automotive, and an assortment of audio applications.

The economy is stabilizing, which is easing fears of spending on consumer goods. The housing market, which took down the economy by taking the credit markets with it, is stabilizing, and the ratio of income-to-housing expenditures is more balanced than it was previously.

The automotive market, host for numerous ICs, fell substantially during the downturn. This market did benefit from the cash-for-clunkers program, although automotive sales receded again after the program ended. But it became a booster to spending, which helped. And automotive is expected to turn up in 2010 and beyond, particularly in areas such as China. Overall, spending is higher now than it was in the depths of 2009, and that is what is pulling us up and out of the sloth of 2009 and will carry us to a more positive future.
Sandra Winkler is senior industry analyst at New Venture Research Corp. (newventureresearch.com); This e-mail address is being protected from spambots. You need JavaScript enabled to view it . This column runs bimonthly.
Last Updated on Friday, 26 March 2010 10:12
Columns
There's been a flurry of EMS acquisition activity of late, with Natel's acquisition of EPIC Technologies and Benchmark's pickup of Suntron and CTS among the larger deals.
Read more...
What Does New CEO for Microsoft Mean for Hardware?
In the end, Microsoft couldn't pull the trigger. In Seattle, outside just wasn't "in."
The world's largest software developer today named Satya Nadella, head of the the company's Server and Tools unit, as its new chief executive. The 46-year-old Nadella becomes just the third person to lead Microsoft, one of the most successful and wealthiest companies ever.
Read more...
Features
A Systems-Level Approach to Product Development
Is there a way to more tightly integrate materials and process development so as to accelerate the pace of innovation?
Read more...
Reducing Stencil Wipe Frequency
A new study of nanocoatings allows users to visualize solder paste flow under the stencil.
Read more...
Products
Getech Releases GLRS Laser Singulater
GLRS laser singulation system is configurable with a near IR laser (1032nm) for use with metal-core substrates or a green laser (532 nm) for use with ultra-thin and flexible substrates. Inert gas...