Written by Rita Mohanty, Ph.D.
Monday, 01 March 2010 00:00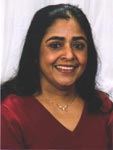 Results from last month's study on registration using closed-loop control.
Ed.: Last month's column reviewed a design of experiments (DoE) of print registration control. This month we discuss the results.
Evaluation tests. Figures 6 and 7 show results from the evaluation tests. Results from the rear to front direction are shown with two different correction factors. The graph shows that for 50% correction factor, it takes four boards to reach the target registration. On the other hand, for 25% correction factor, it takes about eight boards to reach the target registration. Predictably, smaller correction factor holds the offset value at a much tighter range. Based on these results, a 50% correction factor was considered adequate and was used for the remainder of the tests.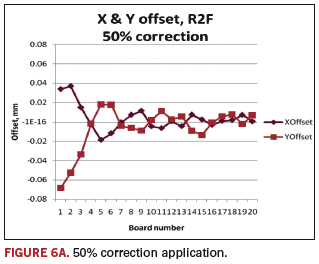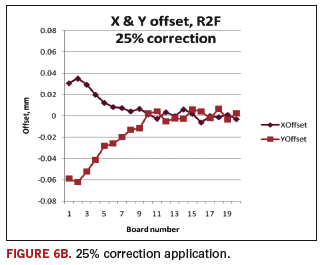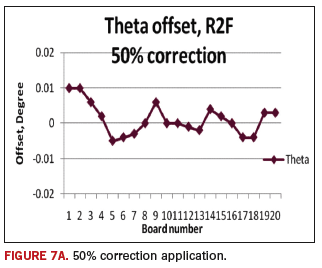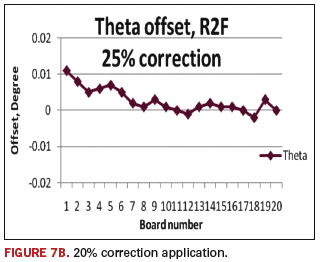 Baseline test. Figures 8 and 9 show results from the baseline test for F2R stroke direction only. R2F stroke direction showed similar behavior. As is clear from the plots, both X and Y offset fluctuate around a fixed spot that which is not zero. Additional analysis comparing the baseline results to the long-run result will be presented later.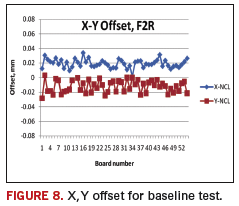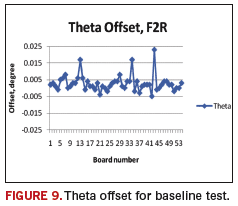 Long-run test. Results from this study are presented in Figures 10 to 13. From these results, the closed loop control algorithm is capable of reaching the target value rather quickly. Additionally, it is observed that the average registration value can be maintained close to the target for the entire duration of the test.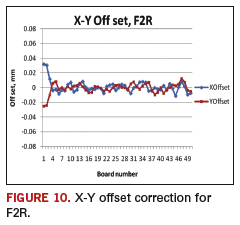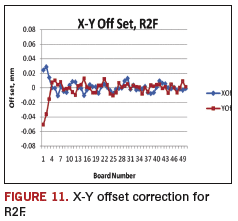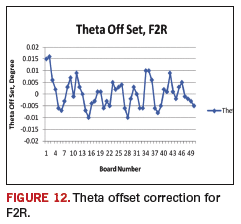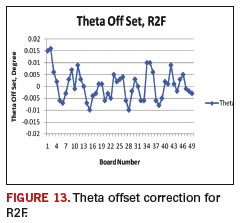 Print performance comparison between with/without closed loop control gives a measure of process improvements produced by the closed-loop control system. Comparison of the process capability index, Cpk, for X and Y offset measurements for the cellphone board is shown in Figure 13. The increase in the Cpk for both X and Y offset with control is due to the centering and tightening of the print process. Additional statistical analysis confirms the improvement of print performance by employing the closed-loop process control. This analysis is presented in Figure 14. Figure 15 shows the individual moving chart for Y offset with both with/without the control. It is clear from this analysis that both mean and control limit improve for process with the closed-loop control.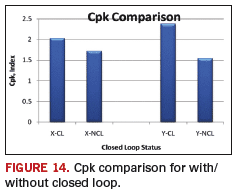 Closed-loop controls have been implemented at many stages along printed circuit board manufacturing lines, including within reflow ovens and component placement.
Miniaturization will drive closed loop-process controls for printing slowly but surely into assembly lines. Closed-loop controllers, when implemented correctly, have advantages of keeping complex processes within control limits, even when small external perturbations affect the product line. In addition, closed-loop control minimizes operator intervention and has self-tuning properties.
Limited controlled experiments in a laboratory environment show an improvement in the print process capability with the closed-loop control in place. The full extent of the benefit can only be accessed by employing such a system in a true high-volume production environment.  CA

Acknowledgment
The authors would like to express their sincerest gratitude to Paul Haugen from CyberOptics for continued support in operating the SPI system and insight into inspection system in general. Without his support, this project wouldn't have been successful.  
References
1. Rita Mohanty, "In the Loop," Circuits Assembly, March 2009.
Rita Mohanty, Ph.D., is director advanced development at Speedline Technologies (speedlinetech.com); This e-mail address is being protected from spambots. You need JavaScript enabled to view it .
Last Updated on Tuesday, 09 March 2010 11:54
Columns
There's been a flurry of EMS acquisition activity of late, with Natel's acquisition of EPIC Technologies and Benchmark's pickup of Suntron and CTS among the larger deals.
Read more...
What Does New CEO for Microsoft Mean for Hardware?
In the end, Microsoft couldn't pull the trigger. In Seattle, outside just wasn't "in."
The world's largest software developer today named Satya Nadella, head of the the company's Server and Tools unit, as its new chief executive. The 46-year-old Nadella becomes just the third person to lead Microsoft, one of the most successful and wealthiest companies ever.
Read more...
Features
A Systems-Level Approach to Product Development
Is there a way to more tightly integrate materials and process development so as to accelerate the pace of innovation?
Read more...
Reducing Stencil Wipe Frequency
A new study of nanocoatings allows users to visualize solder paste flow under the stencil.
Read more...
Products
Getech Releases GLRS Laser Singulater
GLRS laser singulation system is configurable with a near IR laser (1032nm) for use with metal-core substrates or a green laser (532 nm) for use with ultra-thin and flexible substrates. Inert gas...