Written by Dr. Davide Di Maio
Tuesday, 01 December 2009 00:00
  
Microsectioning shouldn't be taken lightly, lest the sample be damaged.

The microsection image shows an open connection between the through-hole copper plating and the innerlayer tracking. The microsection has been poorly prepared, with potential damage to the plating during grinding. As shown, no resin is in the hole to support the through-hole copper plating. The surface of the copper is rounded, making it impossible to prove the root cause of the problem in this example.

It is accepted that the sample has been poorly prepared. Any time a section is being prepared, it is important resin enters the through-hole. In the case of via holes, they may be coated with solder mask; in this case, the mask surface must be broken to permit resin to enter the hole. If a section is found to not have resin in it prior to grinding to the center, it's important to stop grinding. This permits the hole to be filled with resin, recurred prior to further grinding of the sample.

These are typical defects shown in the National Physical Laboratory's interactive assembly and soldering defects database. The database (http://defectsdatabase.npl.co.uk), available to all Circuits Assembly readers, allows engineers to search and view countless defects and solutions, or to submit defects online.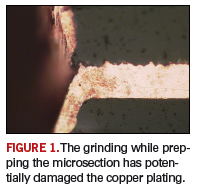 Dr. Davide Di Maio is with the National Physical Laboratory Industry and Innovation division (npl.co.uk); This e-mail address is being protected from spambots. You need JavaScript enabled to view it .
Last Updated on Monday, 14 December 2009 17:25
Columns
The Flash Programming Flow
On-board flash memory device testing and programming.
Read more...
Features
Technology Truck Tours: The New Alternative to Trade Shows?
As the electronics manufacturing industry worldwide has changed dramatically, marketers of OEM capital equipment have changed their strategies and methodologies. Successful marketers have learned to think outside the box – and in some cases, even outside the exhibit hall.
Read more...
MassChallenge, a not-for-profit accelerator program, aims to "create a bigger pie" by helping innovators get to market.
Read more...
Products
TRI Rolls Out TR7500 SIII 3D AOI
TR7500 SIII 3D AOI has five color cameras and 3D laser for 3D height inspection. Combines 3D profile measurement with multi-angle 2D inspection. Is for post-reflow assembly inspection. Inspects 01005...