Written by Mike Buetow
Tuesday, 01 December 2009 00:00
A look back at friends and colleagues who left us in 2009.
2009 came in like a bear and left like a lamb, but was felt deeply by all. Likewise, many of our friends and industry colleagues who did not make it through the year leave behind remarkable legacies and compelling memories. This month we reflect on their impact on our industry and our lives.

Dr. Carl Tautscher, 83, cleaning expert, author, and chairman of the IPC Cleaning and Contamination Control Subcommittee.

Jim Thiel, 61, cofounded Thiel Audio.

Richard (Dick) Schedtler, 60, vice president and owner of AR Marketing, and former Intel engineer.

Marty Jawitz, 78, former Litton Guidance and Controls engineer and author.

Velma J. "Val" Greig, 71, former auditor at Tektronix and Merix.


Dr. Steven Case, 60, founder and chairman of CyberOptics Corp.

Jerry Lee Cartwright, 51, engineer at Western Digital and Celestica.





Barry O'Brien, 56, late of Horizon Sales manufacturer's representative, MidWest Circuit Products and Foundation Technologies.

Bradley Jay Black, 50, ex IBM, Celestica, and Ayrshire Electronics.

James (Jim) J. Miller, 76, product development engineer, Laminating Company of America (LCOA), BF Goodrich and Daubert Chemical.





Roy Matheson, 83, former production engineer at Sheldahl.

 
Scott Hudson, 52, semiconductor industry analyst at Dataquest, In-Stat, IDC and iSuppli Corp., and former staffer at Apple and Sanmina-SCI.





Allan McKinnon, founder, rep company Allan McKinnon & Associates, and PCB wet process equipment manufacturer FSI.  

Harvey Simonds, 48, former field service engineer at Vitronics-Soltec and service technician at Xerox.

Mark Shepherd Jr., 86, 40-year veteran in engineering and management Texas Instruments; was chief executive from 1967 to 1976 and chairman from 1976 to 1988.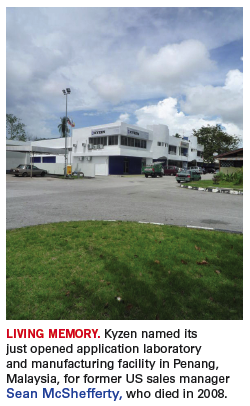 Last Updated on Monday, 14 December 2009 17:25
Columns
Eastern-US: China's New Competitor?
Parity emerges among EMS Factories from Asia, Mexico and the US.
For the first time in years we see parity in the Eastern US among EMS factories from Asia, Mexico and the US. This EMS market condition will permit American OEMs (the EMS industry refers to OEMs as customers) to have more EMS pathways to choose from. Now more than ever, such EMS assignments will require deeper investigation relating to the OEMs' evaluation of manufacturing strategies.
Read more...
For those who count on the electronics industry for big feats, it's been a remarkable couple of years.
Read more...
Features
Advances in Concentration Monitoring and Closed-Loop Control
Contaminated bath water skews refractive index results. New technology can accurately measure aqueous cleaning agent concentration.
Read more...
Circuits Disassembly: Materials Characterization and Failure Analysis
A systematic approach to nonconventional methods of encapsulant removal.
Read more...