Written by Mike Buetow
Tuesday, 01 December 2009 00:00
A look back at friends and colleagues who left us in 2009.
2009 came in like a bear and left like a lamb, but was felt deeply by all. Likewise, many of our friends and industry colleagues who did not make it through the year leave behind remarkable legacies and compelling memories. This month we reflect on their impact on our industry and our lives.

Dr. Carl Tautscher, 83, cleaning expert, author, and chairman of the IPC Cleaning and Contamination Control Subcommittee.

Jim Thiel, 61, cofounded Thiel Audio.

Richard (Dick) Schedtler, 60, vice president and owner of AR Marketing, and former Intel engineer.

Marty Jawitz, 78, former Litton Guidance and Controls engineer and author.

Velma J. "Val" Greig, 71, former auditor at Tektronix and Merix.


Dr. Steven Case, 60, founder and chairman of CyberOptics Corp.

Jerry Lee Cartwright, 51, engineer at Western Digital and Celestica.





Barry O'Brien, 56, late of Horizon Sales manufacturer's representative, MidWest Circuit Products and Foundation Technologies.

Bradley Jay Black, 50, ex IBM, Celestica, and Ayrshire Electronics.

James (Jim) J. Miller, 76, product development engineer, Laminating Company of America (LCOA), BF Goodrich and Daubert Chemical.





Roy Matheson, 83, former production engineer at Sheldahl.

 
Scott Hudson, 52, semiconductor industry analyst at Dataquest, In-Stat, IDC and iSuppli Corp., and former staffer at Apple and Sanmina-SCI.





Allan McKinnon, founder, rep company Allan McKinnon & Associates, and PCB wet process equipment manufacturer FSI.  

Harvey Simonds, 48, former field service engineer at Vitronics-Soltec and service technician at Xerox.

Mark Shepherd Jr., 86, 40-year veteran in engineering and management Texas Instruments; was chief executive from 1967 to 1976 and chairman from 1976 to 1988.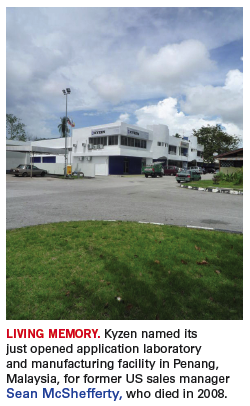 Last Updated on Monday, 14 December 2009 17:25
Columns
There's been a flurry of EMS acquisition activity of late, with Natel's acquisition of EPIC Technologies and Benchmark's pickup of Suntron and CTS among the larger deals.
Read more...
What Does New CEO for Microsoft Mean for Hardware?
In the end, Microsoft couldn't pull the trigger. In Seattle, outside just wasn't "in."
The world's largest software developer today named Satya Nadella, head of the the company's Server and Tools unit, as its new chief executive. The 46-year-old Nadella becomes just the third person to lead Microsoft, one of the most successful and wealthiest companies ever.
Read more...
Features
A Systems-Level Approach to Product Development
Is there a way to more tightly integrate materials and process development so as to accelerate the pace of innovation?
Read more...
Reducing Stencil Wipe Frequency
A new study of nanocoatings allows users to visualize solder paste flow under the stencil.
Read more...
Products
Getech Releases GLRS Laser Singulater
GLRS laser singulation system is configurable with a near IR laser (1032nm) for use with metal-core substrates or a green laser (532 nm) for use with ultra-thin and flexible substrates. Inert gas...