Written by Dr. Davide Di Maio
Sunday, 01 November 2009 00:00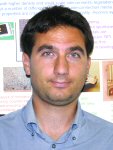 Drilling may be behind 'false' gaps.
The microsection in Figure 1 was taken from the knee of a plated through-hole during board examination. The section shows a gap between the edge of the original copper foil and the through-hole copper plating. This is not a crack in the plating, however. Rather, there is resin smear on the copper foil edge, and the copper plating to the surface of the board and into the through-hole has simply covered the resin, giving the appearance of a crack or the copper folding.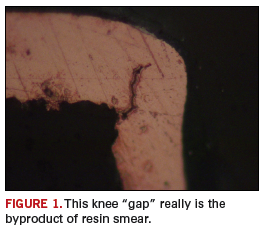 As resin smear is the most likely cause on the edge of the copper foil, a full review of the steps during and after drilling needs to be examined. Test sections taken after panel plating should be considered to demonstrate any improvements in the copper plating adhesion to the edge of the foil. Reference should be made to IPC-A-600 or internal company procurement standards. 
Dr. Davide Di Maio is with the National Physical Laboratory Industry and Innovation division (npl.co.uk); This e-mail address is being protected from spambots. You need JavaScript enabled to view it .
Last Updated on Friday, 20 November 2009 18:38
Columns
Eastern-US: China's New Competitor?
Parity emerges among EMS Factories from Asia, Mexico and the US.
For the first time in years we see parity in the Eastern US among EMS factories from Asia, Mexico and the US. This EMS market condition will permit American OEMs (the EMS industry refers to OEMs as customers) to have more EMS pathways to choose from. Now more than ever, such EMS assignments will require deeper investigation relating to the OEMs' evaluation of manufacturing strategies.
Read more...
For those who count on the electronics industry for big feats, it's been a remarkable couple of years.
Read more...
Features
Advances in Concentration Monitoring and Closed-Loop Control
Contaminated bath water skews refractive index results. New technology can accurately measure aqueous cleaning agent concentration.
Read more...
Circuits Disassembly: Materials Characterization and Failure Analysis
A systematic approach to nonconventional methods of encapsulant removal.
Read more...