Written by Duane Benson
Thursday, 01 October 2009 00:00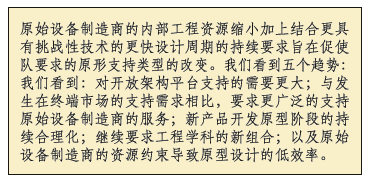 What drives them and how can design teams optimize the process?
In my last article, I discussed the changing role of OEM product development engineering teams (Circuits Assembly, February 2009). OEMs' downsizing of internal engineering resources, combined with continued requirements for faster design cycles that incorporate more challenging technology, is driving changes in the types of prototyping support required. Here are five trends we see:
Greater need for support of open architecture platforms. Semiconductor manufacturers are trying to address OEM engineering team resource constraints by facilitating the development of single-board solutions that incorporate their processors. One such example is the Beagle Board (beagleboard.org), a low cost, high performance, low power Texas Instruments OMAP3 processor-based platform designed by the BeagleBoard.org community.

The Beagle Board is designed to be either a development system or an out-of-the-box platform for embedded applications such as firewalls, video distribution systems, multimedia picture frames and robotics. A standard platform can cut development time and compensate for the challenges associated with manufacturing the OMAP processor. The processor is a 0.4 mm pitch BGA in a package-on-package (PoP) form factor that accepts a 0.5 mm pitch BGA memory chip on top. The combination of double-pitch BGAs and the microvias found within the board's layout can make production more complex. Since the manufacturing technology may not be well understood by the OEM engineering team or its prototype build site, having a pre-built platform and open-source design files as options will permit much faster adoption of such advanced components as the PoP OMAP processor. While PoP is well deployed in the higher volume EMS community, it is not necessarily widely used in all standalone prototyping facilities. But we can expect the popularity of these semiconductor manufacturer-driven solutions to continue to drive enhanced support capabilities in the prototyping community.

A wider range of service options to support OEM needs relative to support demands in their end-markets. A survey of our customers found that more than 30% were purchasing quickturn prototyping services to support low-volume/short-run production needs. These are customers that were going through a quickturn prototype process because they found it preferable to trying to outsource a short-run project in a traditional EMS environment. Typically, they were looking for a supplier that would be fast and flexible, and willing to support a project that might have a six-month or less commitment. Project volumes usually didn't support expensive tooling or non-recurring engineering (NRE) cost. They found traditional EMS new product introduction (NPI) processes too cumbersome for a short-run project, but in many cases, the technology and support requirements exceeded the capabilities of most job shops.  

The market drivers were typically embedded systems products. Robotics and industrial control products in that application segment often have beta test requirements or short-term contracts. We found offering a lower-cost hybrid service with simplified project launch and a longer turn time than the quickturn service satisfied the needs of this market. However, expect the trend of customers specifying exactly what mix of services they want to purchase to continue in the prototyping and short run realm, since they are often pressured by end-customers to do short-term work as well.
Continued streamlining of the prototype process. As mentioned in my previous article, OEM engineering teams find the process of sourcing prototypes to be overly cumbersome. We've found value focusing on two parts of that issue. The first area is customer service. Some companies want an easy web-based ordering system, and others want to place an order over the phone.

At the same time, the key to offering customers more choices has also involved understanding key areas of prototyping need segmentation. One obvious division is consigned vs. turnkey prototype orders. However, project complexity also can be a point of market segmentation. Companies and hobbyists with simple needs want simple solutions such as online quote calculators and integrated prototype/PCB fabrication online ordering. In our case, we've teamed with PWB fabricator Sunstone Circuits (sunstone.com) to permit customers with simplified requirements to one-stop shop through either company. Expect to see the trend of easier ordering options and supply base teaming to continue, as downsized teams look to take cost and complexity out of their processes.

Continuing requirements for new combinations of engineering disciplines. While engineers have trained in specific disciplines, many products have experienced significant technology convergence. For example, wireless is analog. Digital engineers may have been told in school that analog was a dying technology, but in mixed signal applications, there is a requirement for skills in both areas. Point of load power and reprogrammable memory use also drive the need for expanded engineering skills. While tapping the skills of your prototype partner is one solution, design engineers should also recognize that engineering degrees are the first step in the journey. Today's technology requires continued skills enhancement.

Inefficiencies in prototype design driven by OEM resource constraints. Downsizing is here to stay. Today's engineering managers have two choices:
They can continue to juggle shrinking resources and hope for the best, or they can strategically map processes for supporting company product development needs with reduced resources. Tactically, that means evaluating suppliers not only for their ability to build prototypes, but also for their ability to team in supporting the product development process. Flexibility and scalable resources are two key areas to consider in this evaluation process. Additionally, it is important to determine what "free" resources your supply base can offer. Are there design guidelines that can be shared and built into internal layout processes? Are there educational resources that discuss common layout mistakes in newer technologies that can help your team as projects increase in technological complexity? Find ways to integrate your suppliers' resources into the gaps in your team. Companies that address trends will lead the pack in competitiveness.  

Duane Benson is marketing manager at Screaming Circuits (screamingcircuits.com); This e-mail address is being protected from spambots. You need JavaScript enabled to view it . For additional tips, visit his blog at http://blog.screamingcircuits.com.
Last Updated on Wednesday, 18 November 2009 19:06
Columns
There's been a flurry of EMS acquisition activity of late, with Natel's acquisition of EPIC Technologies and Benchmark's pickup of Suntron and CTS among the larger deals.
Read more...
What Does New CEO for Microsoft Mean for Hardware?
In the end, Microsoft couldn't pull the trigger. In Seattle, outside just wasn't "in."
The world's largest software developer today named Satya Nadella, head of the the company's Server and Tools unit, as its new chief executive. The 46-year-old Nadella becomes just the third person to lead Microsoft, one of the most successful and wealthiest companies ever.
Read more...
Features
A Systems-Level Approach to Product Development
Is there a way to more tightly integrate materials and process development so as to accelerate the pace of innovation?
Read more...
Reducing Stencil Wipe Frequency
A new study of nanocoatings allows users to visualize solder paste flow under the stencil.
Read more...
Products
Getech Releases GLRS Laser Singulater
GLRS laser singulation system is configurable with a near IR laser (1032nm) for use with metal-core substrates or a green laser (532 nm) for use with ultra-thin and flexible substrates. Inert gas...