Written by Dr. Davide Di Maio
Monday, 04 May 2009 13:18
Vibration and strain from Pb-free solder can crack traces near PBGAs.

This month we feature one recent issue on broken circuit traces on an area array design. A large plastic BGA was found with open circuit connections on the corners of a package. The assembly reportedly failed in the field in a telecommunications application produced in medium volume. Nondestructive x-ray examination confirmed broken traces leading to the corner termination pads. The PBGA was mounted on a standard 0.63" epoxy-glass substrate and soldered with Pb-free solder.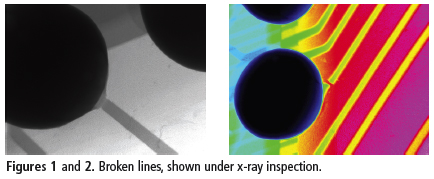 The probable cause may be expansion and contraction of the package and board during local high-temperature operation. If the pad surface had separated from the board (a condition known as pad cratering) because of mechanical shock or high Tg laminate use, the failure could occur more quickly.
An alternate possibility may be the impact of vibration on the joint interfaces: Pb-free joints are stronger and more rigid, so strain may be transferred to the traces. Closer examination of the broken trace, the quality of the original connection, trace/pad and analysis of the operating environment is required. This type of failure has been seen on flexible circuits due to the strain of flexing.
These are typical defects shown in the National Physical Laboratory's interactive assembly and soldering defects database. The database (defectsdatabase.npl.co.uk), available to all Circuits Assembly readers, allows engineers to search and view countless defects and solutions, or to submit defects online.
Dr. Davide Di Maio is with the National Physical Laboratory Industry and Innovation division (npl.co.uk); This e-mail address is being protected from spambots. You need JavaScript enabled to view it .
Columns
The Flash Programming Flow
On-board flash memory device testing and programming.
Read more...
Does Reliability Have a Place In EMS?
Experts say physics of failure is overtaking MTBF as the go-to model.
Read more...
Features
Technology Truck Tours: The New Alternative to Trade Shows?
As the electronics manufacturing industry worldwide has changed dramatically, marketers of OEM capital equipment have changed their strategies and methodologies. Successful marketers have learned to think outside the box – and in some cases, even outside the exhibit hall.
Read more...
MassChallenge, a not-for-profit accelerator program, aims to "create a bigger pie" by helping innovators get to market.
Read more...
Products
TRI Rolls Out TR7500 SIII 3D AOI
TR7500 SIII 3D AOI has five color cameras and 3D laser for 3D height inspection. Combines 3D profile measurement with multi-angle 2D inspection. Is for post-reflow assembly inspection. Inspects 01005...