Written by Paul Lotosky
Wednesday, 01 April 2009 18:17

The dwell time, flux and temperatures are main culprits.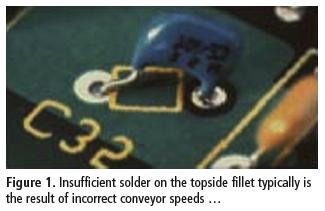 Insufficient solder topside fillet occurs where the joint has not formed a good topside fillet. Per IPC acceptability standards, a total maximum of 25% depression, including both the primary solder destination and the secondary solder source sides, is permitted.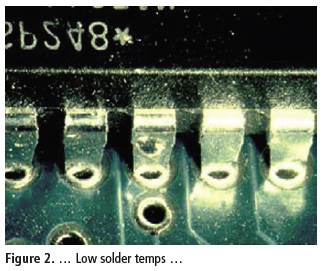 When troubleshooting, the primary process setup areas to check include:

Conveyor speed too slow
Time over preheat too long, causing the flux to be burned off.
Dwell time too long, causing flux to be destroyed before exiting the wave.
Conveyor speed too fast
Dwell time too short/topside board temp too low.
Topside board temp too high for flux, causing it to burn off before the wave.
Insufficient flux, or flux is not active enough.
Solder temperature too low, and it cools in the barrel before it reaches the topside.
Wave height too low in one or both waves, so solder does not contact the board properly.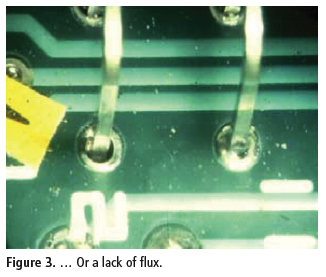 Other things to look for in the process include:
Solder temperature too high or too low.
Preheat too high or too low.
Excess or insufficient flux blow-off.
Board not seated properly.
Contaminated flux or solder.
Board pallet too hot.
Solder wave height low.
Flux SP GR too low.
Conveyor speed high.
Solder wave uneven.
Flux SP GR too high.
Flux applied unevenly or not making contact.
Other things to look for with the assembly:
Board oxidized, warped or contaminated.
Mask in hole.
Laminate moisture.
Poor plating in the hole.
Hole and pad misregistration.
Mask misregistration.
Component contamination.
Other things to look for with the board design:
Poor pallet design.
Internal ground plane.
Pad size mismatched.
Large ground plane on component site.
Lead-to-hole ratio too large or too small.
Large ground plane on solder side.
Paul Lotosky is global director - customer technical support at Cookson Electronics (cooksonelectronics.com; This e-mail address is being protected from spambots. You need JavaScript enabled to view it .

Last Updated on Wednesday, 01 April 2009 11:48
Columns
The Flash Programming Flow
On-board flash memory device testing and programming.
Read more...
Does Reliability Have a Place In EMS?
Experts say physics of failure is overtaking MTBF as the go-to model.
Read more...
Features
MassChallenge, a not-for-profit accelerator program, aims to "create a bigger pie" by helping innovators get to market.
Read more...
Who says a Tier IV EMS can't have the foresight, and follow-through, of the big players?
Read more...