Written by ACI Technologies Inc.
Monday, 01 February 2010 00:00
When halide fluxes lead to corrosion – and what to do about it.
The customer submitted several board assemblies that failed in the field and exhibited corrosion in close proximity to on-board components. The most common source of corrosion on electronics assemblies is residual flux. Fluxes can be highly reactive chemicals that, if left on the assemblies, can lead to corrosion, electrical degradation, and decreased reliability. In the presence of moisture and electrical bias, flux residue can enable dendritic growth as a result of electrochemical migration.

To establish the source of the corrosion, technical data sheets and materials safety data sheets (MSDS) can be used to help evaluate the chemistries of the approved fluxes. The cleaning process also is evaluated to ensure the efficacy of cleaning the fluxes. Further, by establishing a correlation between the composition of the residues and flux chemistries, one can eliminate or confirm the source of the corrosion. Analysis of the residues may be accomplished by employing scanning electron microscopy (SEM) with energy dispersive x-ray spectroscopy (EDS).

The introduction of chemistries promoting the advancement of corrosion in electronic assemblies may appear paradoxical. However, the proper flux coupled with effective cleaning processes can negate performance and long-term reliability issues. An abundance of flux types are currently available. J-STD-004B characterizes flux by type: rosin (RO), resin (RE), organic (OR) and inorganic (IN). Flux activity also is designated by the degree of its ionic and corrosive actions. A halide-free flux providing adequate soldering performance with low residue levels may appear ideal. However, flux selection may rely on board type, material compatibility, specifications, component mounting and solderability.

In this case, optical microscopy was used to obtain images of the white (Figure 1) and green residues (Figure 2) observed on the assembly and components. SEM/EDS can provide a qualitative representation of these residues using high magnification microscopy in conjunction with EDS for quantitative purposes. Analysis revealed the white areas of corrosion to be consistent with tin chloride residue (Figure 3) and the green areas to be consistent with copper chloride residue (Figure 4). These residues may form when copper and tin react with chloride ions, which likely came from an aggressive flux that had an extended exposure time on the assembly. Carbon, nitrogen and oxygen also were present in both residues and are typical organic components of the flux. A review of the flux technical data sheets referenced the use of L0 materials. L0 materials are halide-free and were neither the source of the chlorides, nor the cause of the residue. Further review of the materials revealed an aggressive flux also was used in the selective soldering process. The designator ORH1 indicates the highest flux activity level in the OR category and halide concentrations greater than 2%. It is likely this flux is the source of the chlorides and the cause of the residue.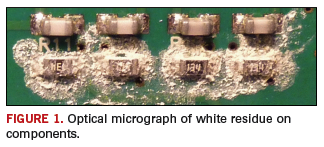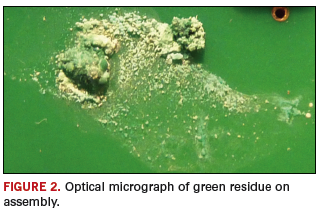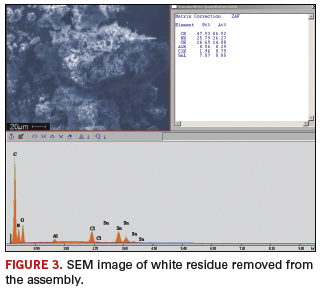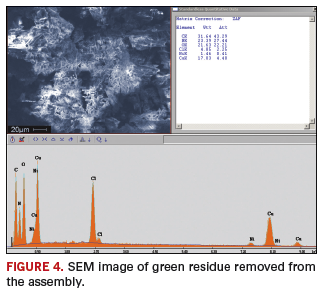 Chloride remaining on the assemblies after exposure to H1 fluxes is common. When combined with moisture and electrical bias, the presence of these chlorides is instrumental in corrosion. An assembly properly cleaned and rinsed after reflow can effectively eliminate the remaining halide fluxes, removing any ionic species necessary for corrosion. Manufacturing processes also must be thoroughly reviewed. This ensures non-approved materials that may lead to reliability issues are not applied. 
ACI Technologies Inc. (www.aciusa.org) is a scientific research corporation dedicated to the advancement of electronics manufacturing processes and materials for the Department of Defense and industry. This column appears monthly. 
Last Updated on Tuesday, 09 February 2010 20:22
Columns
Eastern-US: China's New Competitor?
Parity emerges among EMS Factories from Asia, Mexico and the US.
For the first time in years we see parity in the Eastern US among EMS factories from Asia, Mexico and the US. This EMS market condition will permit American OEMs (the EMS industry refers to OEMs as customers) to have more EMS pathways to choose from. Now more than ever, such EMS assignments will require deeper investigation relating to the OEMs' evaluation of manufacturing strategies.
Read more...
For those who count on the electronics industry for big feats, it's been a remarkable couple of years.
Read more...
Features
Advances in Concentration Monitoring and Closed-Loop Control
Contaminated bath water skews refractive index results. New technology can accurately measure aqueous cleaning agent concentration.
Read more...
Circuits Disassembly: Materials Characterization and Failure Analysis
A systematic approach to nonconventional methods of encapsulant removal.
Read more...