Written by Dr. Davide Di Maio
Friday, 01 January 2010 00:00
  
Poor plating can be a culprit, and audits are in order.

This sample via hole (Figure 1) has been mounted in resin and microsectioned to look at the plating quality. The optical image clearly shows the resin surface at the back of the hole. This is a through-hole plating problem, and closer examination of the plating is required. The center of the sidewall may show the problem relates to the initial metallization process or the electroplated copper. The poor coverage in this example could have been caused by residues on the surface of the drilled hole that were removed during plating. Or, it could be related to a gas bubble in the hole during plating. In the case of less obvious examples, a light is put behind the microsection to show up the degree of laminate coverage.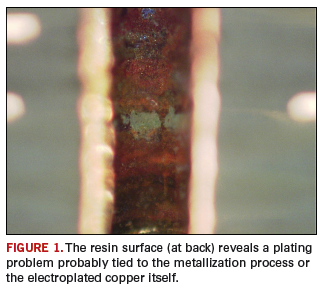 Auditing the printed board fabrication process with samples examined from drilling through the final copper plating process should be considered. Optical examination of hole coverage and microsections should illustrate satisfactory process control.

These are typical defects shown in the National Physical Laboratory's interactive assembly and soldering defects database. The database (http://defectsdatabase.npl.co.uk), available to this magazine's readers, allows engineers to search and view countless defects and solutions, or to submit defects online. 
Dr. Davide Di Maio is with the National Physical Laboratory Industry and Innovation division (npl.co.uk); This e-mail address is being protected from spambots. You need JavaScript enabled to view it . His column appears monthly.
Last Updated on Thursday, 07 January 2010 14:08
Columns
There's been a flurry of EMS acquisition activity of late, with Natel's acquisition of EPIC Technologies and Benchmark's pickup of Suntron and CTS among the larger deals.
Read more...
What Does New CEO for Microsoft Mean for Hardware?
In the end, Microsoft couldn't pull the trigger. In Seattle, outside just wasn't "in."
The world's largest software developer today named Satya Nadella, head of the the company's Server and Tools unit, as its new chief executive. The 46-year-old Nadella becomes just the third person to lead Microsoft, one of the most successful and wealthiest companies ever.
Read more...
Features
A Systems-Level Approach to Product Development
Is there a way to more tightly integrate materials and process development so as to accelerate the pace of innovation?
Read more...
Reducing Stencil Wipe Frequency
A new study of nanocoatings allows users to visualize solder paste flow under the stencil.
Read more...
Products
Getech Releases GLRS Laser Singulater
GLRS laser singulation system is configurable with a near IR laser (1032nm) for use with metal-core substrates or a green laser (532 nm) for use with ultra-thin and flexible substrates. Inert gas...