Written by Dr. Davide Di Maio
Tuesday, 01 December 2009 00:00
  
Microsectioning shouldn't be taken lightly, lest the sample be damaged.

The microsection image shows an open connection between the through-hole copper plating and the innerlayer tracking. The microsection has been poorly prepared, with potential damage to the plating during grinding. As shown, no resin is in the hole to support the through-hole copper plating. The surface of the copper is rounded, making it impossible to prove the root cause of the problem in this example.

It is accepted that the sample has been poorly prepared. Any time a section is being prepared, it is important resin enters the through-hole. In the case of via holes, they may be coated with solder mask; in this case, the mask surface must be broken to permit resin to enter the hole. If a section is found to not have resin in it prior to grinding to the center, it's important to stop grinding. This permits the hole to be filled with resin, recurred prior to further grinding of the sample.

These are typical defects shown in the National Physical Laboratory's interactive assembly and soldering defects database. The database (http://defectsdatabase.npl.co.uk), available to all Circuits Assembly readers, allows engineers to search and view countless defects and solutions, or to submit defects online.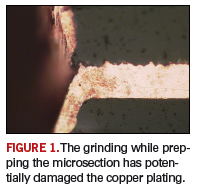 Dr. Davide Di Maio is with the National Physical Laboratory Industry and Innovation division (npl.co.uk); This e-mail address is being protected from spambots. You need JavaScript enabled to view it .
---
Last Updated on Monday, 14 December 2009 17:25
Columns
European RoHS Enforcement Explained
A series of workshops next month on compliance with RoHS and other directives will help US companies looking to break into the European market.

Read more...
Believing Foxconn Means Suspending Belief
The Foxconn makeover is in full swing, with the latest this piece from the New York Times that supposes that the world's largest ODM is worried that Apple -- yes, Apple -- might be bringing it down:
Read more...
Features
Managing Your ESD Program
SMT Reflow Oven-to-Oven Repeatability
How to adjust an oven so a single recipe will work across multiple ovens for an individual product.
Read more...
Products
Inventec Releases SnBiAg Solder Paste
Tin-bismuth-silver solder paste for SMT assembly has silver content of >1% for improved mechanical reliability and thermal cycling. Melting point is around 139°C. Offers good soldering yield for...