Written by Mike Buetow
Tuesday, 01 December 2009 00:00
A look back at friends and colleagues who left us in 2009.
2009 came in like a bear and left like a lamb, but was felt deeply by all. Likewise, many of our friends and industry colleagues who did not make it through the year leave behind remarkable legacies and compelling memories. This month we reflect on their impact on our industry and our lives.

Dr. Carl Tautscher, 83, cleaning expert, author, and chairman of the IPC Cleaning and Contamination Control Subcommittee.

Jim Thiel, 61, cofounded Thiel Audio.

Richard (Dick) Schedtler, 60, vice president and owner of AR Marketing, and former Intel engineer.

Marty Jawitz, 78, former Litton Guidance and Controls engineer and author.

Velma J. "Val" Greig, 71, former auditor at Tektronix and Merix.


Dr. Steven Case, 60, founder and chairman of CyberOptics Corp.

Jerry Lee Cartwright, 51, engineer at Western Digital and Celestica.





Barry O'Brien, 56, late of Horizon Sales manufacturer's representative, MidWest Circuit Products and Foundation Technologies.

Bradley Jay Black, 50, ex IBM, Celestica, and Ayrshire Electronics.

James (Jim) J. Miller, 76, product development engineer, Laminating Company of America (LCOA), BF Goodrich and Daubert Chemical.





Roy Matheson, 83, former production engineer at Sheldahl.

 
Scott Hudson, 52, semiconductor industry analyst at Dataquest, In-Stat, IDC and iSuppli Corp., and former staffer at Apple and Sanmina-SCI.





Allan McKinnon, founder, rep company Allan McKinnon & Associates, and PCB wet process equipment manufacturer FSI.  

Harvey Simonds, 48, former field service engineer at Vitronics-Soltec and service technician at Xerox.

Mark Shepherd Jr., 86, 40-year veteran in engineering and management Texas Instruments; was chief executive from 1967 to 1976 and chairman from 1976 to 1988.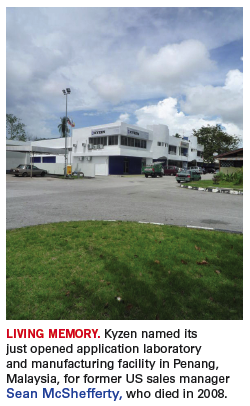 Last Updated on Monday, 14 December 2009 17:25
Columns
The Flash Programming Flow
On-board flash memory device testing and programming.
Read more...
Does Reliability Have a Place In EMS?
Experts say physics of failure is overtaking MTBF as the go-to model.
Read more...
Features
MassChallenge, a not-for-profit accelerator program, aims to "create a bigger pie" by helping innovators get to market.
Read more...
Who says a Tier IV EMS can't have the foresight, and follow-through, of the big players?
Read more...
Products
Dial Releases Buran B100 Screen Printer
Buran B100 screen printer has a print format of 75 x 75mm to 508 x 508mm. Repeatability said to be -/±15μm @ 6 Sigma. Cycle time is 12 sec. (without print). Handles PCB of thicknesses ranging from...