Written by Dr. Davide Di Maio
Sunday, 01 November 2009 00:00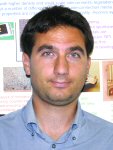 Drilling may be behind 'false' gaps.
The microsection in Figure 1 was taken from the knee of a plated through-hole during board examination. The section shows a gap between the edge of the original copper foil and the through-hole copper plating. This is not a crack in the plating, however. Rather, there is resin smear on the copper foil edge, and the copper plating to the surface of the board and into the through-hole has simply covered the resin, giving the appearance of a crack or the copper folding.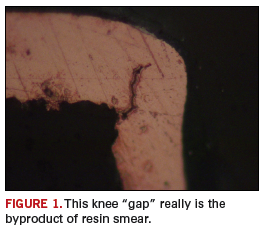 As resin smear is the most likely cause on the edge of the copper foil, a full review of the steps during and after drilling needs to be examined. Test sections taken after panel plating should be considered to demonstrate any improvements in the copper plating adhesion to the edge of the foil. Reference should be made to IPC-A-600 or internal company procurement standards. 
Dr. Davide Di Maio is with the National Physical Laboratory Industry and Innovation division (npl.co.uk); This e-mail address is being protected from spambots. You need JavaScript enabled to view it .
Last Updated on Friday, 20 November 2009 18:38
Columns
The Flash Programming Flow
On-board flash memory device testing and programming.
Read more...
Does Reliability Have a Place In EMS?
Experts say physics of failure is overtaking MTBF as the go-to model.
Read more...
Features
MassChallenge, a not-for-profit accelerator program, aims to "create a bigger pie" by helping innovators get to market.
Read more...
Who says a Tier IV EMS can't have the foresight, and follow-through, of the big players?
Read more...
Products
Dial Releases Buran B100 Screen Printer
Buran B100 screen printer has a print format of 75 x 75mm to 508 x 508mm. Repeatability said to be -/±15μm @ 6 Sigma. Cycle time is 12 sec. (without print). Handles PCB of thicknesses ranging from...