Written by ACI Technologies Inc.
Thursday, 03 September 2009 18:27
Opening the package reveals the potential defects within.
Decapsulation, or de-cap, is a failure analysis technique that involves removal of material packaging from an

integrated circuit. After de-cap, visual inspection by optical microscopy of the internal circuitry may reveal areas where damage is most likely to have occurred. In addition, scanning electron microscopy with energy dispersive x-ray spectroscopy can identify the composition of any anomalies present after de-cap under higher magnification.
Removing package material can be performed either mechanically or chemically, depending on the IC design. With ceramic packaging, de-cap usually is done mechanically by chiseling off the top with a fine razor and small hammer. For plastic packaging, de-cap requires chemical etching by strong acids. Here, we look at de-cap by chemical etching.
Step 1. Using x-ray inspection, identify where the die is relative to the IC (Figure 1). The manufacturer datasheet may also specify the clearance from the package top to the die. Using a marker, draw an outline of the die on the top surface of the IC and mark the side for approximate depth to the die.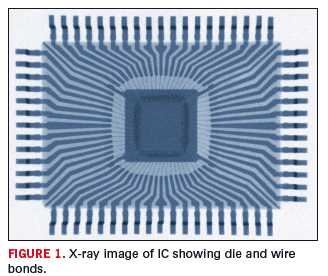 Step 2. Attach an abrasive point to a Dremel rotary tool (with variable speed control) and slowly drill a small cavity into the IC (Figure 2). Apply gentle pressure and keep within the outline and depth that you have marked on the IC. Use caution when drilling to avoid damage to the die and wire bonds.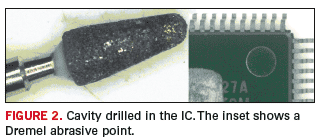 Step 3. Prepare a hot plate in a fume hood and set the temperature to 100°C. An acetone spray bottle, a waste beaker, and tweezers should be within reach. Also, several disposable pipettes should be available in the fume hood.
Step 4. Following proper safety precautions (including a chemical lab coat/apron, safety goggles, and thick butyl gloves), pour out a small amount (10 to 15 mL) of fuming nitric acid and fuming sulfuric acid into separate labeled vials while under the fume hood.
Step 5. When the hot plate has reached 100°C, dispense a few drops of fuming nitric acid into the drilled cavity. Allow the acid to etch the plastic packaging until the reaction appears to slow. Using tweezers, hold the IC over the waste beaker and flush with acetone to clean out the debris and flush any remaining acid. (Note: Acetone is extremely flammable. Keep away from the hot plate.) Once the die is exposed, switch to fuming sulfuric acid and remove the plastic packaging near the wire bonds following the same procedure. Stop etching when the acid can no longer remove plastic packaging or may damage internal circuitry (Figure 3).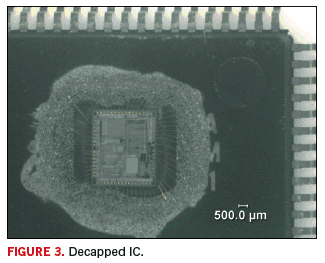 The ACI Technologies Inc. (aciusa.org) is a scientific research corporation dedicated to the advancement of electronics manufacturing processes and materials for the Department of Defense and industry. This column appears monthly.
Last Updated on Wednesday, 09 September 2009 18:41
Columns
Eastern-US: China's New Competitor?
Parity emerges among EMS Factories from Asia, Mexico and the US.
For the first time in years we see parity in the Eastern US among EMS factories from Asia, Mexico and the US. This EMS market condition will permit American OEMs (the EMS industry refers to OEMs as customers) to have more EMS pathways to choose from. Now more than ever, such EMS assignments will require deeper investigation relating to the OEMs' evaluation of manufacturing strategies.
Read more...
For those who count on the electronics industry for big feats, it's been a remarkable couple of years.
Read more...
Features
Advances in Concentration Monitoring and Closed-Loop Control
Contaminated bath water skews refractive index results. New technology can accurately measure aqueous cleaning agent concentration.
Read more...
Circuits Disassembly: Materials Characterization and Failure Analysis
A systematic approach to nonconventional methods of encapsulant removal.
Read more...